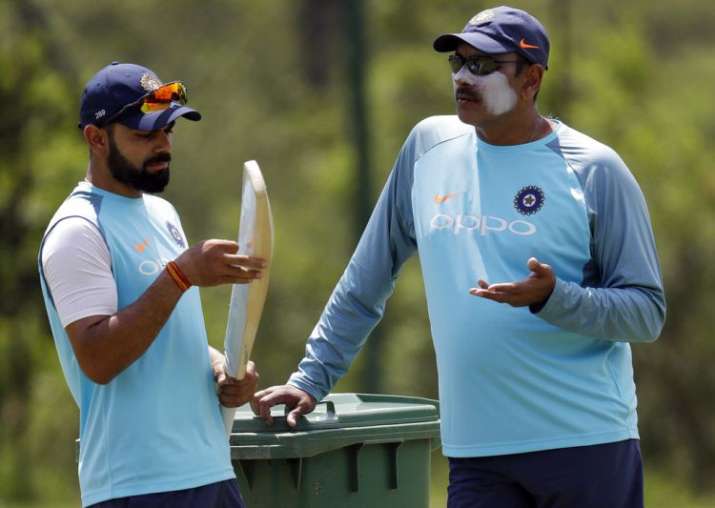 Contradicting with coach Ravi Shastri's views that India should have spent more time preparing, India skipper Virat Kohli insisted his team didn't come underprepared for the Test series. After the visitors lost the opening two Tests by 72 runs and 135 runs respectively at Cape Town and Centurion, Shastri said Team India should have arrived ten days early to prepare better.
"I personally don't feel that we didn't feel prepared starting this series. I won't sit here and point that out after losing a Test series. We had a week to prepare ourselves, five days because one day we were travelling," Kohli said ahead of the third Test starting on Wednesday.
"So we had that and we went ahead with that. As I said, we are not going to sit and think of outside factors that made us lose. It was our errors, our mistakes of not capitalising on situations that led us to the result being 2-0 so far,"
"Responsibility isn't just one-sided. I think it's a collective responsibility of everyone and those aspects (of preparing early) are and have been a point of consideration for a while," said the skipper.
Kohli said he is learning everyday as a captain and would like to handle the match situations better in future.
"As a captain as well, you want to proudly do better in situations when the game has gone away from you at times. So, I have thought about those things as well how you can still keep the pressure on and not let the game slip away in very quick time," he said.
"I always keep thinking about my game, how I can learn as a captain and get better in every aspect of what I do. Even focusing on the positives, you need to be able to still work on your positives to be able to be a consistent international player over a period of time. I have never stopped learning and I will never stop learning."
A lot of Indian batsmen including Kohli, Cheteshwar Pujara, Ajinkya Rahane and KL Rahul have had double sessions in the nets during the three days leading up to the match.
Talking about the Indian batsmen, who have come up short in this series, Kohli said: "We are looking to correcting our mistakes in these two games and intent is going to be a big part of it. Intent can be leaving the ball or defending the ball as well. With your body language, you can get to know how a person is feeling. That's precisely what I meant.
"That's always going to be a big factor. When you are playing in conditions that are not your own, your belief and your body language in each minute of a Test match matters. As a collective unit that is something we have discussed and that is something the guys are looking forward to embrace.
(With PTI inputs)