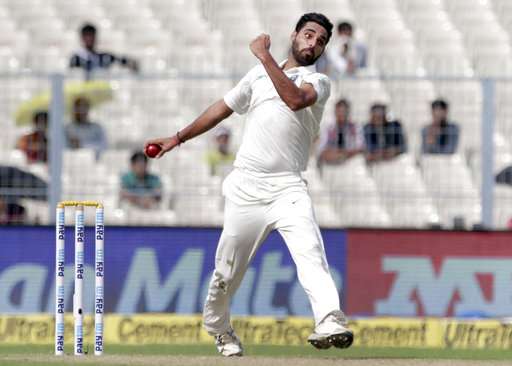 Former India pace spearhead Javagal Srinath has said tipped right-arm pacer Bhuvneshwar Kumar to be the main strike bowler in the three-match Test series against South Africa, starting from January 5. Srinath, in an interview to Cricbuzz, said Bhuvneshwar should be treated as the strike bowler as he has been "outstanding" in the past few months.
India have never managed to win a Test series on South African soil ever since they played their first 25 years ago. And when Virat Kohli and his men, who are number one in the ICC Test rankings, lock horns against world number two South Africa, the visitors will look to create history. 
Srinath expressed plenty of hope in the current Indian fast bowling line-up, which has a mix of youth and experience in the likes of Ishant Sharma, Mohammed Shami, Bhuvneshwar, Umesh Yadav and Jasprit Bumrah. 
"This is the best fast bowling combination in India at the moment. I go by what I've seen in the last one-and-a-half years. I strongly feel Bhuvneshwar will be the strike bowler - or at least he should be treated like one. He should be used economically and in short spells. Over the past few months, he has been outstanding," Srinath told Cricbuzz.
"He has added a couple of yards of pace to his deliveries and has been moving the ball with greater control," he added.
Srikanth, who is perhaps the most successful Indian fast bowler in South Africa with 43 wickets in eight Tests, said the team management needs to preserve Bhuvneshwar and he should not be used as a "second fiddle".
"Bhuvneshwar swings the ball both ways and at an alarming pace. With the kind of pace he gets, he can be a great asset for the team on South African wickets which usually have bounce and carry."
"The team management has to take care of him and ensure he lasts the series. He should not be used as second fiddle, where he is made to bowl donkey overs and is tired by the second or the third Test. He should be well-supported by the others," he said.