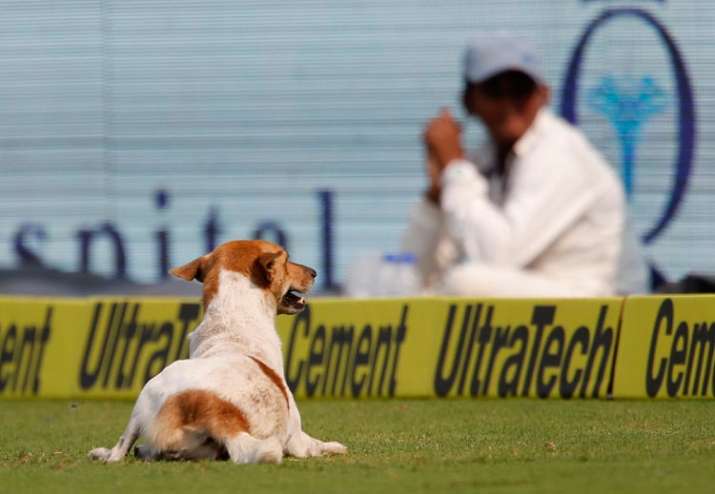 India on Thursday won the toss and decided to bat against England in the second Test at Visakhapatnam, the first ever five-day match at the venue. 
The highlight of the day was centuries by Captain Virat Kohli and Cheteshwar Pujara. But there was someone else that took the limelight away from the two centurions. 
Their centuries could have come sooner if a stray dog had not forced an early tea break with Kohli and Pujara approaching their individual score of 100.  
Kohli was unbeaten on 91 off 135 balls while Pujara was batting on 97 off 177 when the tea was taken in the middle of the 57th over after a stray dog halted the proceedings. India had reached 210 for two with Kohli and Pujara extending their partnership to 188 runs. 
Twitter erupted in laughter after the incident with some hilarious tweets following the dramatic entry of the dog. 
Let's take a look at some: 
Dog stops play - no, really! Two guards give chase & the umpires call tea with India 210-2! Is it this one we met earlier?! 🐶 #INDvENG pic.twitter.com/kASD01sTIb

— England Cricket (@englandcricket) November 17, 2016
Wait till Lodha hears about the dog. Gonna take a few more affidavits to clear this one. #INDvENG

— Gaurav Sethi (@BoredCricket) November 17, 2016
Dog outperforms England in superb pre-tea spell https://t.co/0qlTa82FQb

— Peter Miller (@TheCricketGeek) November 17, 2016
The dog managed to take a dump in the middle of a cricket ground while being chased around. Clearly the performer of the day #INDvENG 🐶💩

— Jaideep Vaidya (@jaideepjourno) November 17, 2016
A DOGged display from Pujara today, as England suffer (and Stokes reacts to that joke...) pic.twitter.com/7XAJn7ZCmL

— Jonny Singer (@Jonny_Singer) November 17, 2016
Someone even created a Twitter handle in his name and look who he tweeted to.
Want to play fetch with me, @StuartBroad8 ? #VizagDog #INDvENG

— Vizag Dog (@VizagDog) November 17, 2016
And he promises to come back tomorrow.
I'll be back again tomorrow! https://t.co/5odfnnpXXR

— Vizag Dog (@VizagDog) November 17, 2016
And here is the man throwing a show: 
I'm coming for you... pic.twitter.com/wydciP9v3U

— Vizag Dog (@VizagDog) November 17, 2016