Follow us on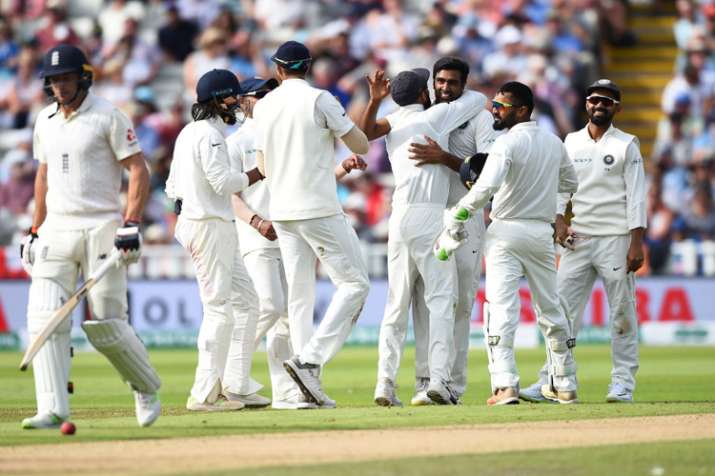 Off-spinner Ravichandran Ashwin produced one of his most impactful performances outside the sub-continent as India reduced England to 285 for nine on the opening day of the first Test at Edgbaston. Ashwin was asked to bowl by skipper Virat Kohli in the initial overs of the day and he provided the important breakthrough of England opener Alastair Cook instantly. The most interesting thing during Ashwin's spell was the guidance of wicketkeeper Dinesh Karthik. Ashwin's Tamil Nadu teammate was constantly guiding him throughout his spell by chattering in Tamil language to confuse the English batsmen. Ashwin was also very delighted with Karthik's gesture and guidance.
Indian opener and another Tamil Nadu player Murali Vijay was also part of this Tamil conversation while fielding at short leg position. Before the game started, Kohli's decision to play only one spinner raised many eyebrows but Ashwin backed his skipper by picking up four crucial wickets till the stumps on Day 1. India will be hoping to see this interesting trio of Tamil players in the upcoming Test matches also.
Here is the glimpse of the conversation that happened between Dinesh Karthik and R Ashwin during the first day:
Karthik told Ashwin about the pitch conditions in between by talking in Tamil. "It's not turning much, keep it within the stumps," Karthik told Ashwin in Tamil.
When English opener Keaton Jennings was batting, Karthik asked Ashwin to keep the length upto him. Karthik said: "This fellow is tall, you need to keep the length up to him."
Before Cook's dismissal, Karthik told Ashwin to keep patience while trying to turn the ball. He motivated the offie with his words, "Patience, Ashely Patience. It's going to turn just wait and watch."
The camaraderie continued till the end of the day. Even when England captain Joe Root was batting, Karthik gave Ashwin some tricks. "Keep the next three in the same place. Let's see what he does," he said.