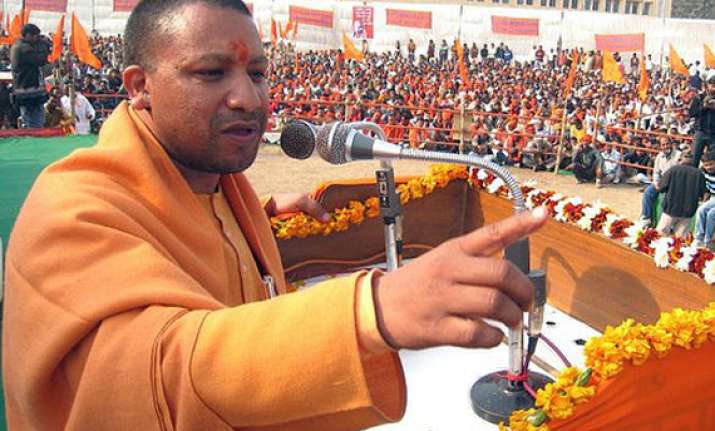 Gorakhpur (UP), Feb 7: Yogi Adityanath, one of the prominent Hindu hardliners in the BJP, has cautioned that if his party moves away from its core agenda of Hindutva it will lose its identity and force leaders like him to disassociate themselves from it.

The BJP MP from Gorakhpur also justified his opposition to the entry of former BSP minister Babu Singh Kushwaha into the party-fold, saying the "fight against corruption" launched against the backdrop of L K Advani's Jan Chetna Yatra may have been blunted by this decision.

"The (Gorakhnath) Temple has led the Ramjanam Bhoomi movement. Hindutva is more like a mission for us. We can leave politics, not Hindutva," he told PTI, adding that people like him will remain associated with BJP till the time the party keeps Hindutva as its agenda.

"The day BJP leaves Hindutva, we'll leave BJP," he said.  Terming Hindutva and Ram Temple as issues related to national interest, Adityanath said people expect parties like the BJP to raise such issues.

"BJP has been identified with that. If it loses that identity, then it will face an identity crisis," he said.  BJP's election manifesto for UP elections states that the party is committed to building a Ram Temple at Ayodhya.  On his opposition to the entry of Kushwaha into the party fold, Adityanath said entry of people with corruption cases would have blunted BJP's fight against corruption.  "We raised the issue of corruption inside and outside Parliament. Advaniji's yatra against corruption was to help BJP... entry of corrupt leaders from SP or BSP would have dented our fight," he said.

Adityanath claimed the NRHM scam had hurt the interest of eastern UP the most as several children died due to lack of proper medication. "Medicines never reached people here...my concerns were understood by the party leadership," he said.  Kushwaha is alleged to be involved in the multi-crore health scheme scam.

The Yogi termed as "mischievous" questions that he has fielded Hindu Yuva Vahini candidates against official BJP candidates in Gorakhpur and surrounding areas in the assembly elections.

"A person who is campaigning for BJP day in and out is being asked such a question. It is mischievous," he said. 

Yuva Vahini's Ram Lakshman is pitted against BJP's official candidate Shubhawati, who is also the mother of party MP from Bansgaon Kamlesh Paswan. 

While BJP had earlier decided to field Ram Lakhsman, Shubhawati's name was finalised after she reportedly threatened to contest on a Samajwadi Party ticket. 

On the issue of BJP not projecting any leader in UP as its chief ministerial candidate, he said the effort at the moment should be on getting maximum number of seats to gain power in the state.

"Chief minister candidate is a non-issue. We are a democratic party and when such a stage comes, the issue will be decided," he said.