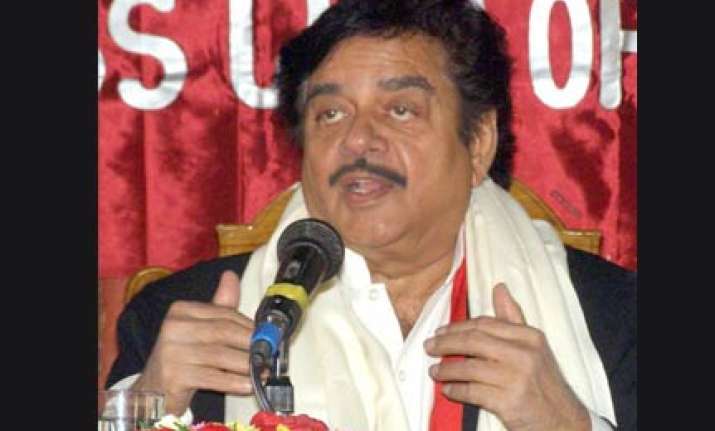 Days after he vent his frustration over selection of the new team of BJP office bearers, Shatrughan Sinha on Tuesday in Lucknow said that there is a vacuum at the top in the absence of Atal Bihari Vajpayee coupled with certain other factors.
 In an informal interaction with reporters here, Sinha said the BJP leadership was weakened after the retirement of Vajpayee from active politics.
 He said there were also certain other factors but declined to elaborate.
The BJP leader, however, sought to put a lid on the controversy following his outburst against party President Nitin Gadkari that deserving candidates had been ignored in the new team announced last week.
 "Whatever I had to say on the executive committee issue I have told my party President and also apprised the Leader of Opposition in the Lok Sabha, Sushma Swaraj and would not react on it further," Sinha said insisting that he had not violated discipline by "expressing his reservations" .
 The BJP MP from Patna asked his party to concentrate on the coming "crucial" assembly elections in Bihar and sort out the problems of factionalism in the party.
Sinha, who was here for the promotion of his son, Luv Sinha's debut film "Sadiyan" releasing early next month, asked the party to project a strong and united face.
"In this election year, it is most important for the party to address all its problems and see as to why the recent results to the by elections had not been favourable", he said adding that though the present Chief Minister Nitish Kumar is doing good work, the results indicated that there is something wrong somewhere and it needed to be rectified immediately.
"We have to ensure that Bihar does not go the Jharkhand way," he said adding that besides doing good work it is also important to ensure that people are perceiving it.
 The BJP MP also coined a new slogan 'Bihar rising" instead of "Bihar Shining" which, he said, would be more apt as a lot still needs to be done in that state.
Sinha regretted at being ignored by the party in his home state. "I was neither invited for the Bihar diwas programme nor am called for the various functions of the chief minister there", he said adding in a lighter vein that perhaps "some people feel insecure because of my popularity".
On the controversy raised over his comments on the new team, Sinha said that he only wanted deserving and capable people should get their rightful place in the party and the undeserving are not given priority over them.
On the women reservation issue, he said that it has been highly politicised as some "vested interests" had been trying to gain political mileage out of it.
"There are bound to be different views on an issue like this but a consensus should be evolved through all party meeting", he said suggesting "counselling" for those having views against it as the bill aims to " change people's mentality over the subject". PTI