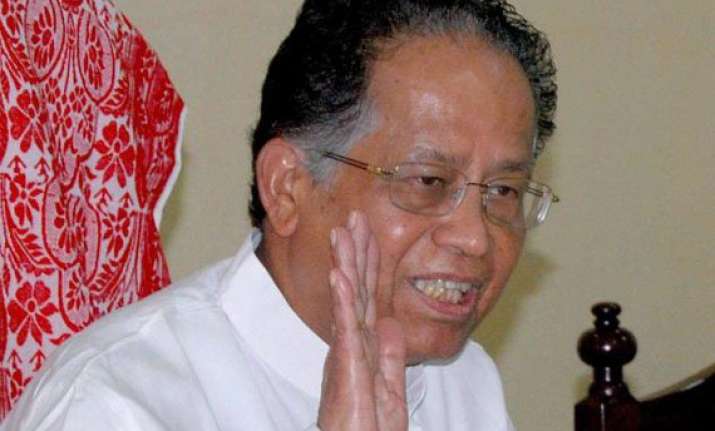 Guwahati: Prime Minister Narendra Modi today expressed happiness over Assam Chief Minister Tarun Gogoi inspiring its people to work towards a clean India.  "Glad to see Assam CM Tarun Gogoiji inspiring the people of Assam to work towards a Clean India," Modi said on Twitter.  In response Gogoi, who had formally launched the 'Clean Assam Campaign' here yesterday, thanked the prime minister for his compliments.
"Together we can make it (Clean India) happen," the Chief Minister's Office(CMO) spokesman quoted Gogoi as saying.  Gogoi had formally launched the campaign at a Durga puja mandap here by sweeping the compound along with the office bearers of the puja committee.
After launching the campaign Gogoi tweeted "Formally kicked off the Clean Assam Campaign in Guwahati city. It evoked a good response. Our Government had started the Clean Guwahati Campaign in February 2012."
Appealing the public to join hands, he said "Cleanliness is next to godliness ... Let us all join hands together to make Assam clean and green. Together we can make it happen."
Gogoi had also announced setting up of a Green Brigade and permanent committees to keep the various localities clean.  In a statement, he appreciated the Swacch Bharat Abhiyan launched by Modi and said "We support any good cause and our government with the help of public organisations, NGOs, puja mandaps and individuals would make an all-out endeavour to make Assam clean and green."
The campaign to be a continuous process here and in other parts of the state would begin in all educational institutions, government offices and public institutions in a phased manner in a mission mode across the nook and corner of the state.
He stressed on the need to keep drains here clean to ensure smooth flow of water. "One of the reasons for Guwahati flood was due to clogging of drains. If we keep the drains free from garbage and filth, it will help to mitigate the problem to a great extent".