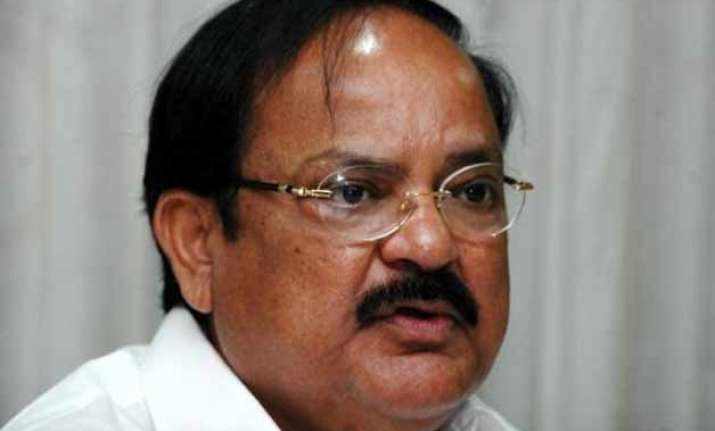 Bhubaneswar: Asking non-Congress parties not to fall prey to its tactics, Union Minister M Venkaiah Naidu today said they should understand Congress' game plan of stalling progress and instead back Centre's development efforts and help in bringing reforms.
"Congress which ruled and ruined the country for 50 years does not want the BJP-led government to succeed. It wants to put obstacles in the path of development by opposing bills in Rajya Sabha and running a disinformation campaign through falsehood," Naidu told reporters here.
"Other non-Congress parties should understand their game plan. They should not fall prey to the tactics of Congress aimed at stalling progress and reforms," the Urban Development and Parliamentary Affairs Minister said.
Accusing Congress of misleading people on measures like the one on land acquisition, Naidu said non-Congress parties including ruling BJD in Odisha should play a constructive role by supporting Narendra Modi government's efforts of developing India and cooperate in implementing the much needed reforms.
Slamming Congress for opposing proposed changes in land law, he said it was acting as an "immature and irresponsible" opposition.
He also accused UPA of giving two lakh acres of public land to the private sector and asserted that not an inch of land would be given to anyone by NDA illegally.
Stating that Modi government believed in cooperative federalism and the concept of Team India, he said the need of the hour is to rise above narrow political considerations and for all parties and states to join the collective effort of eradicating poverty and mitigating sufferings of the poor.
Hitting out at the UPA, Naidu said NDA had inherited from it an economy which was in shambles, infrastructure in bad shape, confidence of people and bureaucracy at a new low amid lack of initiative and enthusiasm.
"A considerable time of first half of one year of the NDA was taken to repair and undo the damage done by Congress-led UPA government to each sector and every sphere of the public life," he said.
During UPA, the investment climate in the country was negative, prices went out of control, corruption was rampant, rupee weakened substantially, deficits mounted and the overall scenario was bleak, he said.
"More than anything, there was lack of decisive leadership. It turned out to be bad for the country. With the government and Congress high-command pulling in different directions, it became worse for the country," Naidu said.