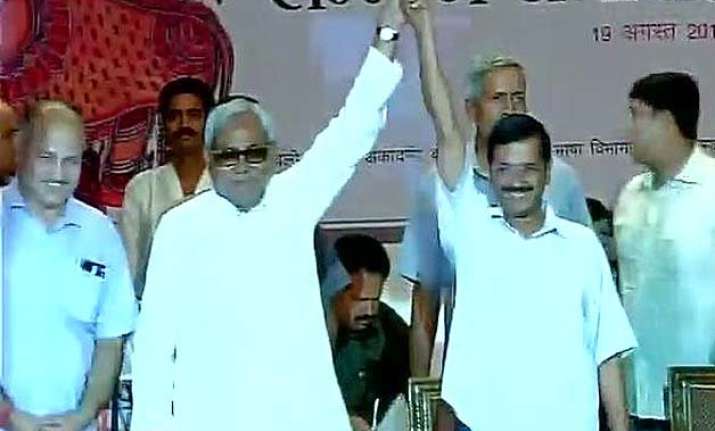 New Delhi:  Bihar Chief Minister Nitish Kumar and Delhi Chief Minister Arvind Kejriwal today shared dais in New Delhi and launched scathing attack on BJP and PM Modi.  
Bihar Chief Minister  was in Delhi to attend  'Bihar Samman Samaroh' organised by Delhi government.  Nitish was invited as the chief guest by Kejriwal government.
Speaking on this occasion, Nitish Kumar reminded PM Modi of the crushing defeat that the BJP suffered at the hands of Kejriwal led AAP in 2015 Delhi Assembly elections.  
"The people of Delhi has taken the right decision by electing Aam Aadmi Party (AAP) and rejecting BJP in the Delhi Assembly elections and people of Bihar will also follow the same," Nitish Kumar said.
"It is an amazing mandate to get 67  seats out of total 70 seats. He said that voters of Delhi took the correct decision inspite of PM Modi's comment that Delhi's Mood is the Mmood of the nation,"Bihar CM added.
"The Voters of Delhi have expressed thier choice and now its the turn of Voters of Bihar to decide",Nitish added
Arvind Kejriwal also stepped up his attack on the BJP and said,"The  Party says something before the polls and change its stance once the elections are over". Arvind Kejriwal also  accepted the invitation extended by Nitish Kumar to visit Bihar soon.