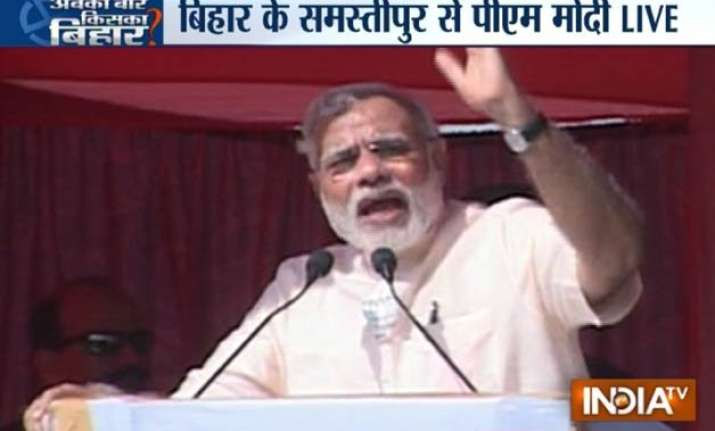 Patna: Prime Minister Narendra Modi today addressed an election rally in Samastipur for the upcoming assembly polls.
In the first phase on October 12, elections will be held in 49 of the 243 assembly constituencies.
Highlights:
* They are together not for the welfare of Bihar but for power: PM
* These 3 parties (RJD, Congress, JD-U) were against each other and would criticise each other: PM Modi
* The big brother and small brother ruled Bihar for 25 years. What they could not do for 25 years will they do in 5 years: PM
* PM Modi arrives in Samastipur
Before this, Modi had addressed a rally in Begusarai.
Highlights of PM's Begusarai rally:
* Shouldnt Lalu ji,Sonia ji and Nitish ji tell what they did for welfare of the people of Bihar in last 60 years?: PM Modi
* This land has tremendous scope for growth in agriculture sector: PM Modi
* I am here with the message of development: PM
* They gave such a bad government for all these years can you trust them: PM on Congress-RJD-JD(U) alliance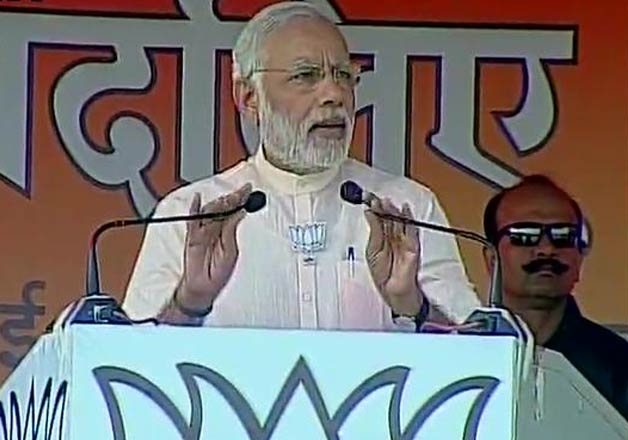 * Before you vote, ask yourselves- this Mahaswarthbandhan, have they done anything for Bihar for 60 years: PM Modi
* Sadly, many polls were fought in the name of poor but nothing was done for the poor: PM Modi
* The rich don't need the government. When a poor man gets sick, he has no support apart from the government: PM
* There are no questions on what will be the result of Bihar Polls. Bihar has decided to bring in NDA government: PM
Before this, Modi had addressed a rally in Munger district.
Highlights of PM's Munger rally:
* There have been 4000 incidents of kidnapping in Bihar under Jungle Raj, kidnapping was the biggest industry: PM Modi
* They were railway ministers so long but has the demands of Munger been met: PM
* This election is clear - on one side is Jungle Raj and other side is Vikas Raj. Nobody wants Jungle Raj again: PM
* They looted Bihar for 60 years and now they have formed a Mahaswarthbandhan: PM
* What kind of allegations has he put on the people. This is an insult to Bihar: PM
* See how a leader insulted the Yaduvansh. Lalu ji, elections come & go but please do not forget these are the people who stood with you: PM
* Yaduvanshis had given India the white revolution: PM
* I was born in Gujarat. It is the land where Mahatma Gandhi was born. This is the land where Shri Krishna founded Dwarkadhish: PM
* People who used to talk about Ram Manohar Lohia's ideology are now drinking Congress' water and abusing us: PM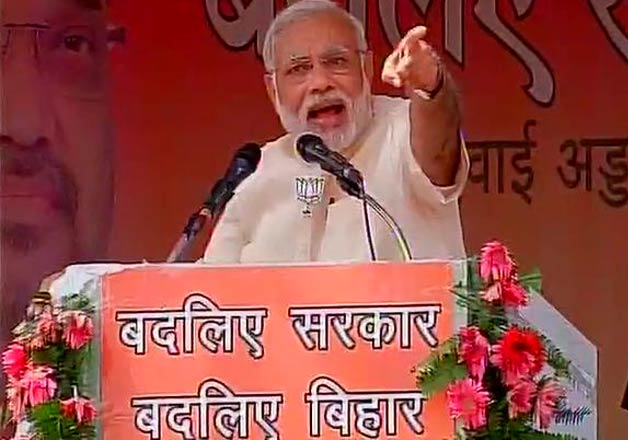 * Today is October 8. I have come to land where yoga got modern form: PM Modi
* For the first time, Bihar Polls are based on the idea of development and progress for the youth: PM Modi
* Political pundits are being forced to change their calculations for the Bihar Elections: PM Modi
The Bharatiya Janata Party (BJP) is extensively banking on Modi's charisma to win the Assembly polls.
Tomorrow, the Prime Minister will address three rallies in Sasaram, Makhdumpur and Arwal.
The Prime Minister has already held half a dozen election rallies in the state and is scheduled to address at least 20 more public meeting across the state.
The main contest is between the BJP-led National Democratic Alliance (NDA) and 'grand alliance' of Nitish Kumar's Janata Dal (United), Lalu Prasad Yadav's Rashtriya Janata Dal (RJD) and the Congress.
Bihar will have five-phase assembly elections between October 12 and November 5 and counting of votes will take place on November 8.