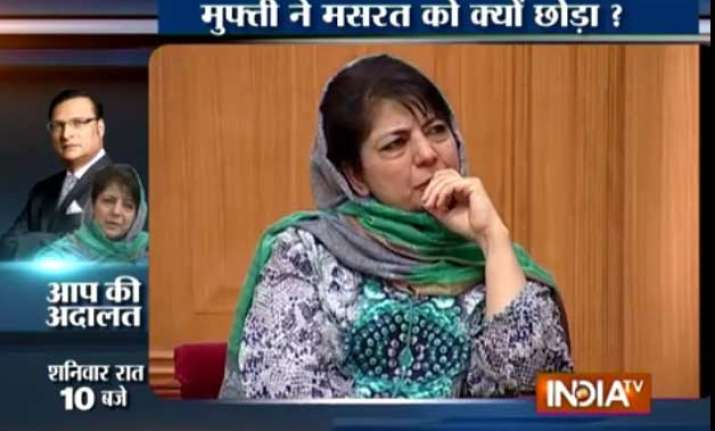 New Delhi: Jammu & Kashmir Peoples Democratic Party chief Mehbooba Mufti has defended the release of separatist Masarat Alam and said that there was "nothing wrong" in it.
Grilled by India TV chairman and editor-in-chief Rajat Sharma in the show Aap Ki Adalat, to be telecast on Saturday (at 10 pm) on India TV, Mehbooba Mufti said, "The party was only upholding a Supreme Court order by freeing the separatist."
The PDP leader, asserting that PDP-BJP alliance was driven by  mandate from the people of Jammu and Kashmir, said there should not be "double standards" over court judgements. "You pick up Number 28 on the list and hang Afzal Guru and say it is pursuant to Supreme Court judgement but when the same SC calls for release of Masrat Alam, who is being held without charge, you question it," she said.
Replying to another question over Masarat's release, the PDP chief said, "Masarat cannot be kept in jail now after Supreme Court dismissed his case."
Mufti also attacked J&K National Conference leader and former CM Omar Abdullah saying that he was concentrating "more on tweets than on ground realities, and that was the reason why his party lost the elections".
"60 per cent of people voted for us in the elections because they trusted us," she added.
When asked about Masarat chanting 'Pakistan Meri Jaan, Pakistan Zindabad' in Kashmir Valley and waving Pakistan national flag, she replied "if the law calls for his release we will do that and if his action calls for his arrest, we will do that too. Masarat was making anti-national comments and we arrested him."
She also said that  the Muslims of Kashmir have an attachment towards India because of what she called the "Ganga-Jamuni tehzeeb" (composite culture) which is why they opted for integration with  India at the time of partition in 1947 rather chosing a Muslim majority nation like Pakistan.