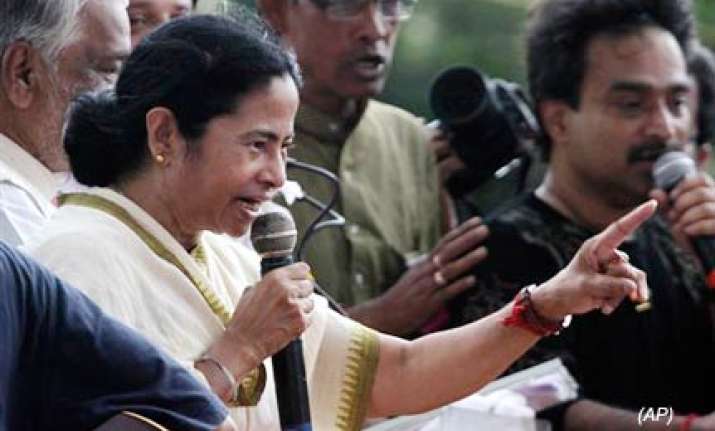 One of the cars in the convoy of railway minister Mamata Banerjee was tonight hit by a lorry coming from opposite direction at Kolaghat in East Midnapore district causing minor injuries to her body guard.
The incident occurred while the Trinamool Congress chief was returning from a rally in Lalgarh.
"The railway minister was not in the vehicle which was knocked by the lorry, causing minor injuries to one of her bodyguards," East Midnapore superintendent of police Ashok Biswas told PTI.
The lorry driver was arrested.
The movement of Banerjee's convoy was halted for some time but she resumed journey a little later, Biswas said.
Trinamool Congress legislator Firhad Hakim, accompanying Mamata Banerjee in her vehicle, alleged that the lorry was dangerously approaching from the left side and knocked the vehicle carrying her bodyguards.
"Mamata Banerjee had a providential escape but was in a state of shock due to sudden jerk," Hakim said.
Finance Minister Pranab Mukherjee on Wednesday wished a speedy recovery to Railway Minister Mamata Banerjee who was advised rest by doctors after she complained of chest pain while returning from her rally at Lalgarh.
Sukhendu Sekhar Roy, a state Congress leader and a close associate of Mukherjee, visited Banerjee's South Kolkata residence and handed over a bouquet of flowers and a message to her additional private secretary wishing her a speedy recovery.
 "I did not try to meet her because she was not well. Her Additional Private Secretary Ratan Mukherjee said she has pain in the chest. I inquired about her health from him and handed over Mukherjee's message and a flower bouquet," Roy said. 
According to Ratan Mukherjee, Banerjee was injured when her car suddenly braked after one of her convoy vehicles was hit by a lorry at Kolaghat in the East Midnapore district on Monday.  Doctors have advised her rest.
A bodyguard of the minister was also injured in the accident. PTI