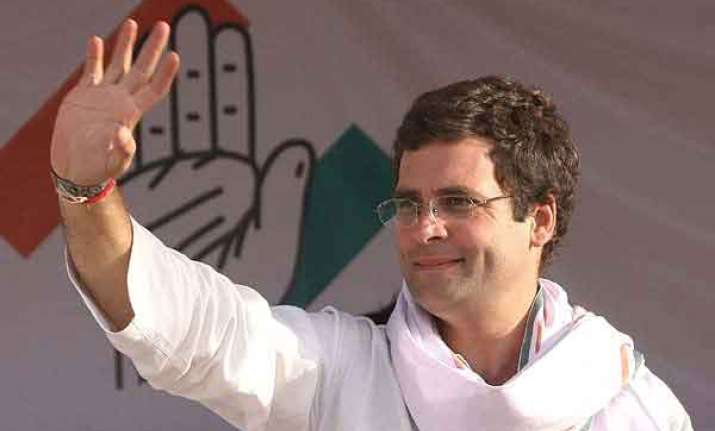 Amethi: Holding a massive road show, Rahul Gandhi today filed his nomination papers from Amethi Lok Sabha constituency seeking a hat-trick and expressed confidence about his "good victory" dismissing the challenge from BJP's Smriti Irani and AAP's Kumar Vishwash.  Accompanied by his mother Sonia Gandhi, sister Priyanka Gandhi and brother in-law Robert Vadra, Rahul filed his papers as the nomination process for the constituency opened today.
Four local leaders, who proposed Gandhi's candidature, are drawn from the OBC, SC, Brahmin and Muslim communities.
Breaking from the practice of not campaigning in a constituency being contested by his aunt Maneka Gandhi and cousin Varun Gandhi, Rahul's road show began from Amhat in Sultanpur, from where Varun is contesting as BJP candidate against Congress' Amita Singh, wife of Rajya Sabha member Sanjay Singh.
Both Sanjay Singh and Amita accompanied Rahul during the road show in which all members of the first family of Congress participated. After filing the nomination, Gandhi dismissed any Narendra Modi wave in Amethi and said he has family relations with the people in the constituency and will secure a "good victory".
Dismissing opinion poll projections about a defeat for Congress in the poll, he said that "in 2004 and 2009 also, the opinion polls had said that Congress party will lose. You all know what happened. The same is going to repeat in 2014.  Congress will win.
"Congress will gain in UP and in the entire country", he said. Replying to questions about attempts to polarize voters by BJP, Gandhi said "every time this attempt of polarization is made. But we connect with the people. India benefits when people are together and when they are united".
Asked if he sees a Modi wave, Gandhi said "where? In Amethi, it's a family relationship (for me). I will have a good victory". Replying to questions, Priyanka Gandhi said she does not feel there is any Modi wave as Congress is fighting strongly. She also maintained she will not campaign beyond Amethi and Rae Bareli.
"No", she said when asked whether she would also campaign outside the two parliamentary constituencies represented by her mother and brother. "I do not think, it is difficult.  Congress is fighting. We are fighting, we will fight and we will perform well", she said  when asked about Modi wave.  "We will surely win", Priyanka said when asked whether Rahul Gandhi's victory margin will go up this time.  Asked whether Congress will emerge winner at the national level, her crisp answer was he "surely, why not".      
Rahul Gandhi, who had recently attacked Modi over the BJP's Prime Ministerial candidate not mentioning his wife's name in his previous election affidavits, today rejected the criticism that he was making any personal attack against Modi.  "I did not get personal. I just stated that he had previously not mentioned something on his affidavit. It's not a personal thing. It's just the fact. He did not mention something on his affidavit," he said.
Rahul said he had focused on three things for development of Amethi—working with women's bodies, connecting the area with national highways and railways and developing food park.  "I am working in Amethi for ten years. I feel very happy about it", he said.