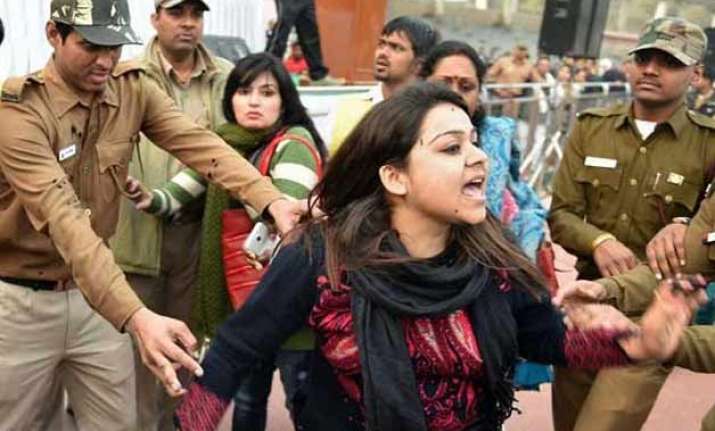 New Delhi: In a sharp reaction to the the ink attack on Delhi Chief Minister Arvind Kejriwal, Deputy CM Manish Sisodia on Tuseday slammed Delhi Police calling the incident a "major security lapse" and wondered whether it was "sitting in readiness to stage an attack on Kejriwal."
"I can see a BJP conspiracy. They want to take advantage of such a situation and attack Kejriwal and the entire Cabinet. They may also kill people because they cannot stand the success of the odd-even scheme and AAP's popularity among the masses. Police is a part of the conspiracy," he said.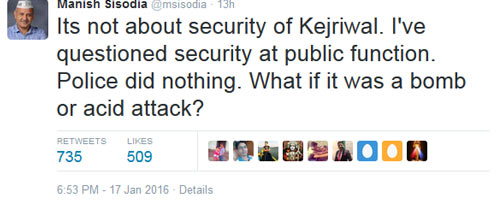 Sisodia said the issue was not about Kejriwal's security alone as the consequences, had it been a bomb or acid attack, would have been ghastly.
"Where is their (police) high alert? Delhi Police seems not to care for an event where thousands had gathered. There was no checking and police was not concerned about public security," Sisodia said.
He wondered how the woman was allowed to talk to reporters even after committing the act. "That means police is a part of the conspiracy and is with BJP."
"We are against VIP security but the CM, his entire Cabinet and thousands were present there. How could she stay free for that long?" Sisodia, who was not present at the event, asked.
"Centre should own responsibility and take action because such incidents have happened in the past as well. People who are staging these incidents, hathcing conspiracies from behind the scene, should be acted against," he added.
Delhi BJP chief Satish Upadhyay rejected the allegations and, in turn, insinuated the incident could have been "stage managed".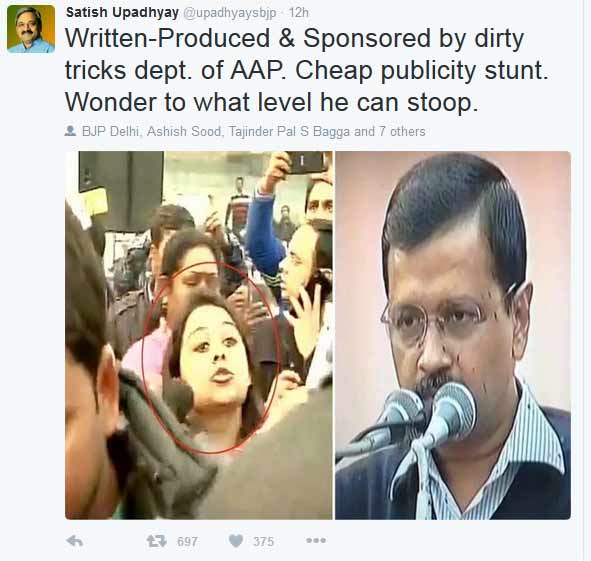 "The incident could well be a case of the activist's frustration or stage-managed by Kejriwal himself to play his usual victim card," said Upadhyay.
Responding to AAP's charge, Delhi police said the charges were "misconceived and unfounded".
"A case has been registered and investigation will be done by Delhi Police," Rajan Bhagat, Delhi Police spokesman said.
Reacting to the incident, AICC communication department chairman Randeep Surjewala said, "Attack on Delhi CM is in poor taste and reprehensible. Such conduct is unknown to Indian democratic tradition."
Police said security arrangements were made as per laid down norms for chief minister's events and that all aspects, including possible "conspiracy" angle, will be looked into.
"Certain allegations have been levelled against Delhi Police by some functionaries of AAP and even by Hon'ble Deputy CM Delhi. These are misconceived and unfounded. Appropriate law and order arrangements were made for Chhatrasal stadium function by Delhi Police," Bhagat said.
"In fact, enhanced police deployment was made for law and order maintenance in view of the large crowd expected to attend the function. The deployment included one company of armed police and personnel from local police .
"As far as personal security of Hon'ble CM is concerned, adequate cover is provided by Delhi Police which includes escort, pilot and Personal Security Officers. A team of security unit performed anti-sabotage check before the function and the team was covering Hon'ble CM at the time of incident," Delhi police said in a statement.
(PTI)