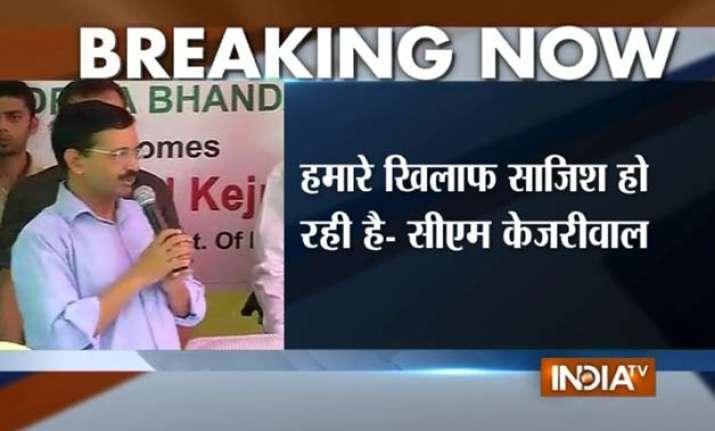 New Delhi: Delhi Chief Minister Arvind Kejriwal today said that all anti-AAP forces have joined hands against him.
Kejriwal's statement comes in the wake of Delhi government's turf war with Lieutenant Governor Najeeb Jaung over the appointment of Shakuntala Gamlin as acting Chief Secretary.
Speaking at an event, Kejriewal vowed to fulfil all the promises he made during run-up to the Delhi assembly elections in February. "Aap logon ne itna vishwaas kiya, bhaari bahumat deke jitaya, aapka vishwaas hum galat nahi hone denge (You trusted us, gave us a huge mandate, we will not let you down)," said Kejriwal.
Meanwhile, Union Home Ministry has replied to the letter Kejriwal wrote to Prime Minister Narendra Modi alleging that the Central government is trying to rule Delhi through LG. Home Ministry, replying to Kejriwal's charges, has  said that the whole issue is just a clash of egos between Delhi CM and LG.
Yesterday, the fight over appointment of Gamlin reached the President's court with Jung and Delhi CM Arvind Kejriwal meeting Pranab Mukherjee separately and apprising him about the present situation.
Home Minister Rajnath Singh is expected to meet President Pranab Mukherjee today to apprise him of ministry's stand on the whole issue.
Meanwhile, LG has written a letter to Kejriwal, saying that all transfers and postings done in the last week stand cancelled.