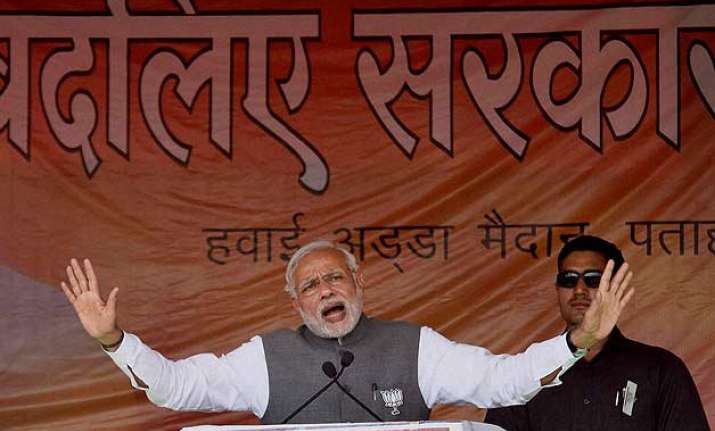 Gopalganj: Prime Minister Narendra Modi today attacked the grand alliance over corruption issue in Lalu Prasad's home-turf in Bihar, listing over 30 alleged scams including fodder scam under RJD and JD(U) during last 25 years and asked voters to punish those who "looted" the state.  
Reaching out to youths with promise of employment and bringing an end to distress migration, Modi said he wants to remind them of the scams that happened in past here.  
Some of the name that PM Modi mentioned in his rally were, 1) bitumen scam 2) muster roll scam 3) fertiliser subsidy scam 4) BIADA land scam  5)liquor scam, 6) medicine purchase scam 7)hand pump scam 8) toilet scam, 9) Kosi channel scam 10) Aanganwadi scam, 11) MNREGA scam, 12) mid-day-meal scam, 13) road construction scam, 14) blanket scam, 15) Vice Chancellor appointment scam, 16) professor recruitment scam.
"I am not talking about the scam in which your sir (Lalu) was convicted. I do not even talk about that fodder. These are the people with a long list of scams. Should they get a chance to engage in more such scams? Should people involved in such scams be punished or not? People, who looted Bihar in this manner should be rejected for ever," Modi said.  
Reminding people of the coal and 2G scam at Centre during UPA, Modi said that there has not been any such scam in last 16 months since he came to power.
"Did any complaint of corruption of even one rupee come out. They (rivals) heap all kind of abuses at me but none of them have accused me of corruption of even one rupee. If the loot of money in Bihar is put to an end, will it not be a service to Bihar.
"You have put your faith in me in Lok Sabha polls. Trust me once again even in this Assembly polls. I have to check this game of loot in Bihar. Give me a chance to serve you," Modi said insisting that the assembly polls in the state is an oppurtunity to punish those who are "looting" it.