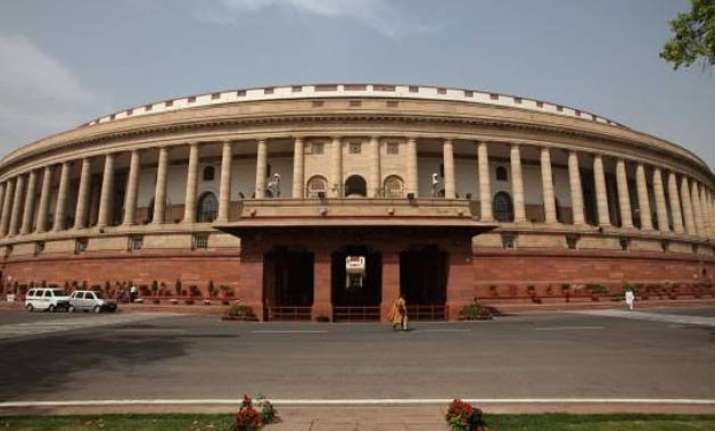 New Delhi: Chaos reined in parliament today as opposition trained guns at Human Resouce Development Minsiter Smriti Irani and Minister of State (HRD) Ram Shankar Katheria over their recent controversial remarks and demanded strict action against them.
While Congress leader Anand Sharma has given adjournment motion in Rajya Sabha, Mallikarjun Kharge and Jyotiraditya Scindia have given adjournment motion in Lok Sabha over Katheria's alleged hate speech.
Lok Sabha was adjourned till 11:15 am following uproar by All India Anna Dravida Munnetra Kazhagam (AIADMK) members seeking action against former finance minister P Chidambaram's son Karthi.
The Bahujan Samaj Party has also given privilege motion against HRD Minister Smriti Irani in Rajya Sabha.
Earlier, Congress leaders KC Venugopal and Ranjeet Ranjan have given a notice for privilege motion in Lok Sabha against Human Resource Development Minister Smriti Irani over her remarks over her statements on the death of Hyderabad Central University student Rohith Vemula and the JNU controversy.
Alleging that she misled Parliament, two Congress leaders moved privilege motion against the minister in the Lok Sabha this morning. Leaders from the Janata Dal (United) and Left parties may join the Congress with another motion.
Speaking in Parliament, Irani had on Wednesday tried to deflect criticism and mounted a strident attack on the opposition accusing it of "politicizing" the PhD scholar's death. She had said that the committee which acted against Rohith had a dalit representative and that doctors were not allowed to revive him after he was found hanging.
Vemula's mother on Friday launched a scathing attack on HRD Minister Smriti Irani, accusing her of resorting to 'blatant lies' while talking in Parliament about her son's suicide.
According to reports, Katheria, along with BJP MP from Fatehpur Sikri Babu Lal, had recently attended a condolence meeting held for VHP worker Arun Mahaur, who was allegedly killed by Muslim youth, in Agra. During the meeting, several speakers threatened the Muslim community of revenge.One of the speakers also reportedly asked the gathering to "corner Muslims and destroy the demons (rakshas).