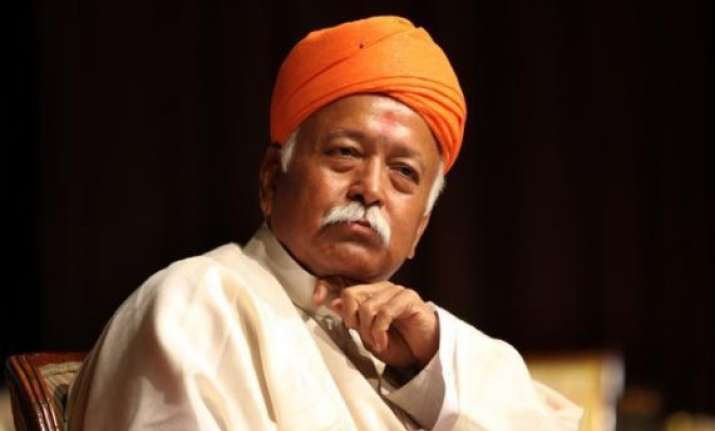 Nagpur: In an address whose live telecast by Doordarshan sparked a controversy, RSS chief Mohan Bhagwat today described Hindutva as the country's "national identity" and the "thread of unity" running through its diversities.  
Speaking at the customary function on Dusshera which coincides with 89th foundation day of his organisation, the RSS chief also patted the Narendra Modi government for initiatives on national security, economy and international relations in a short period of four months.  
The hour-long broadcast by DD for the first time of an RSS function stoked a row with Congress and CPI(M) attacking the government for "misuse" of the state broadcaster while BJP defended it, saying RSS genuinely contributed to patriotism and always patronised 'justice to all' philosophy.  
Coming out in support of Bhagwat, Prime Minister Narendra Modi hailed the address, saying the issues of social reform the RSS chief raised are "very relevant" today.  "Mohan Bhagwat ji talked about important national issues in his speech. The issues of social reform that he raised are very relevant today," Modi tweeted.
In his address, Bhagwat said RSS has been engaged since 1925 in building a virtuous, strong and organised society.  "The all inclusive and all encompassing truth is what we call Hindutva. It is our national identity. That is why we should take the Sangh Shakha to each home in every village, street and community," he said.
"Sangh has been doing it for many decades. It believes in unity in diversity, which does not ask anybody to leave anything except their vices and arrogance, which is the thread of unity running through the country' diversities, this is Hindutva," he said.
Deprecating the live telecast, Congress spokesman Sandeep Dikshit said it was a "dangerous tradition".
"It is a dangerous tradition. This is not an organisation which is completely neutral. It is a controversial organisation," he said, adding it is a political decision of the government.
His party colleague Abhishek Manu Singhvi feared that from now on, the country would be ruled through the official media "for Nagpur, by Nagpur and of Nagpur".  Condemning the live broadcast, CPI(M) said, "The RSS uses the occasion to propagate its Hindutva ideology."
The CPI also came out against the live telecast with its National Secretary D Raja saying the government, particularly the Information and Broadcasting Ministry, should give an explanation to the people for allowing DD to be the mouthpiece for the RSS.
In his address, Bhagwat said people should give some more time to the Modi government for expeditious and efficient execution of its policies.