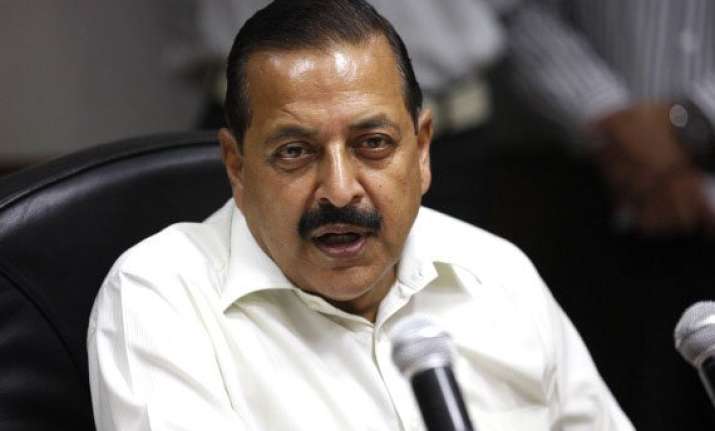 New Delhi: The Centre is committed toward rehabilitation of displaced Kashmiri Pandits in the Valley and will try to do away all their security concerns to ensure their safe return, Minister of State in Prime Minister's Office Jitendra Singh said today.
He was speaking after meeting a delegation of Kashmiri Pandits, who submitted a charter of their demands to the Minister for their rehabilitation in the Valley.  
"Kashmiri Pandits have been connected with their homeland through tradition and culture of Kashmir. I have kept their memorandum. We will go through it. The Government will fulfil all condition for their return raised by them. Government is committed towards their rehabilitation," Singh told reporters here.
He also appreciated the delegation for offering help to the flood-affected people of Jammu and Kashmir.  "The Kashmiri Pandits community has been nationalist and devoted to the cause of the nation. It is a matter of happiness and satisfaction that despite being displaced they have commitment and love towards their homeland.  
"The state has been affected by the floods and they have come here to offer help to their fellow Kashmiris whose lives have been devastated by the floods," said Singh, a Lok Sabha MP from Udhampur constituency of Jammu and Kashmir.  
Singh, who is also MoS for Personnel, Public Grievances and Pension, said the central government has been doing all its bid to ensure rehabilitation of flood-affected people in Jammu and Kashmir.
The unprecedented floods early last month caused by heavy downpour wreaked havoc in J&K, which claimed the lives of at least 277 people and rendered thousand of other homeless. It has also caused extensive damage to rail, road and other basic infrastructure of the state.
"We have been demanding a separate homeland for the Kashmiri Pandits. We should be given separate homeland. The Government should try to make conducive atmosphere for our return. They should engage us in their consultation to ensure rehabilitation of Kashmiri Pandits," Kashmiri Samiti Delhi president Vijay Raina said after meeting the Minister.  
He also demanded economic rehabilitation package for over-aged youths (18 to 37 years) as they have lost precious years of their working life and opportunities due to mass exodus of Kashmiri Pandits at the onset of militancy in J&K 1990.
"We hope that Prime Minister Narendra Modi will look into our demands and take all steps to ensure their rehabilitation," Rakesh Razdan, vice president of Kashmiri Samiti Delhi, told PTI.