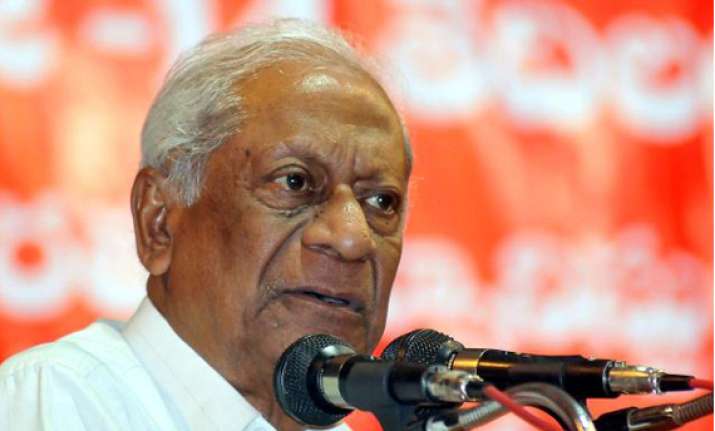 New Delhi, Jun 15: CPI today declined to join yoga guru Ramdev in his fight to bring back black money stashed away abroad, saying that it will organise its own agitation.
Ramdev went to CPI headquarters here where he met CPI General Secretary Sudhakar Reddy and top leader A B Bardhan and talked about his agitation.
After the meeting, Bardhan told reporters that the party is in agreement with most of the issues raised by Ramdev but they will have separate programme.
"Ramdev will fight on his own. He is organising his agitation. We will organise ours," he said.  
Asked whether the CPI leaders will share stage with Ramdev during his proposed agitation from August nine, Bardhan said his party will have a separate agitation from the same day.
"He will run his agitation. We will run ours," he said.
While the CPI leaders met to Ramdev, another Left party CPI(M) has not given any audience to the yoga guru. The yoga guru is meeting political parties seeking support for his movement.
CPI(M) General Secretary Prakash Karat earlier this week had said, "This is his movement. We are not in his movement.  We don't have a problem (because of his movement). We have made clear our stand on black money." Sources said the CPI-M is not keen on giving appointment to Ramdev.
The yoga guru has met Samajwadi Party chief Mulayam Singh Yadav, Sharad Pawar (NCP),
Nitin Gadkari
(BJP), Ajit Singh (RLD), Parkash Singh Badal (SAD), Naveen Patnaik (BJD) and N Chandrababu Naidu (TDP).
Ramdev, on his part, said he discussed with the CPI leaders the issue of blackmoney as well as the use of tainted money within the country.
He also said that the appointment process of Election Commissioner, Comptroller and Auditor General and Central Vigilance Commissioner should be more transparent and more inclusive.