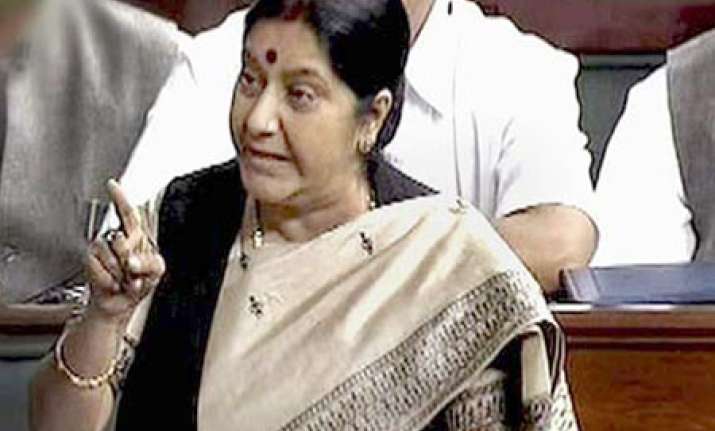 Dhar(MP), Feb 9 (PTI) Blaming the Congress-led UPA government for rising inflation and corruption in the country, Leader of Opposition in the Lok Sabha Sushma Swaraj today alleged that the Centre is openly encouraging corruption at the cost of people's rights.
"Inflation has reached at its peak in the last seven years which has made the life of common men miserable and the disclosure of corruption on a day-to-day basis has proved that the Centre is openly conserving it," she said addressing a rally at Kukshi in support of the BJP candidate, Mukam Singh Kirade for the Kukshi Assembly seat bypoll.
Swaraj called upon people to vote for BJP if they wanted to free the nation from the rising inflation and corruption.The BJP leader alleged that the Congress had misled people during the 2004 General elections by claiming that its hand was with the common man."Everybody knows what happened after that. Inflation has made the life of people totally miserable," she added.
Swaraj said allegations of corruption against the UPA government are not politically motivated, but based on hard facts.
"The country's highest body, Comptroller and Auditor General (CAG) has termed the loss in 2G scam to the tune of Rs 1.76 lakh crore. Similarly, by selling S band spectrum without following due procedures, the government has suffered a loss of Rs two lakh crore," she said.Congress has betrayed people of the country and they will never forgive it, Swaraj said.
The Leader of Opposition spoke on the similar lines at another bypoll rally in Sonkatch Assembly constituency in Dewas district, where Rajendra Verma is contesting for the BJP.
Swaraj also criticised the Centre for not providing financial assistance to the frost-hit farmers of the state and alleged that it is not treating the state in a fair manner.She assured the farmers that they will get adequate compensation for the damaged crops. PTI