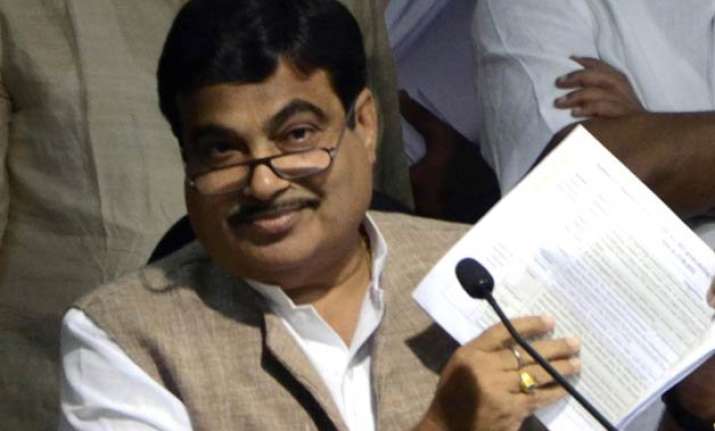 Agra: A high-level Central government team headed by Union Minister Nitin Gadkari arrived in Uttar Pradesh on Tuesday to visit certain parts of the state where farmers have suffered massive crop loss due to unseasonal rain and hailstrom.
Expressing concern over farmers committing suicides, Gadkari assured all support to them in the present situation of crop damages.
"We understand your pain. There are ups and down in life. There are good and bad days. Face the situation boldly. Don't get thoughts of suicide in your mind. Our government is with you. We will support you in this situation," Gadkari said while addressing farmers here. 
Gadkari, who was on a visit to assess crop damage in and around Agra, Aligarh and Meerut, said both wheat and potato crops have been damaged and farmers cannot even sell them in the market. 
"I saw farmers' fields. Wheat crop is damaged and there are no grains. Similar is the situation of potato crop," he said.
Stating that the Centre is ready to lend support to farmers, the Minister said, "You are not alone. We are with you. We are ready to provide relief to you but we are waiting for the crop assessment report from the state government." 
The decision on the relief package can be taken only when the state government submits the accurate report, he said, while asking the UP government to assess the crop damage without considering 'class, caste and religion'. 
The state government has already announced a relief measures and he Centre is also ready to extend help, he added. 
Besides Gadkari, Ministers of Home and Water and Sanitation Haribhai Parthibhai Chaudhary and Ram Kirpal Yadav were also part of the team that visited distressed farmers. 
Sharing about the crop damage, farmer Kirat Singh said, "There is 80 per cent damage to the wheat crop. I have taken loan and I don't know how I will repay." 
Singh owns eight bigha of land in Achhnera block in Fatepur Sikhri, Agra. He planted wheat and the entire crop has been damaged due to recent unseasonal rains and hailstorm. 
He said that the state government has give a relief of Rs 4000 per bigha but that was not sufficient. 
Another farmer Saram Singh having six bigha land in the same block said, "I have not got full compensation. Both wheat and potato crops are rotten due to continuous rains." 
Big farmers having land more than 10 bigha land have also faced damage to crops. They say that their situation is equally bad and the state government is not considering them for providing relief. 
The Uttar Pradesh government has already sent a report on the extent of crop damage and has sought a relief package of Rs 700 crore. The state has estimated crop damage in 28 lakh hectare. 
Meanwhile, Union Agriculture Minister Radha Mohan Singh today said that unseasonal rains and hailstorms have damaged rabi (winter-sown) crops in about 113 lakh hectares of crop area in the country. Total cultivable area in rabi season stands at 600 lakh hectares.