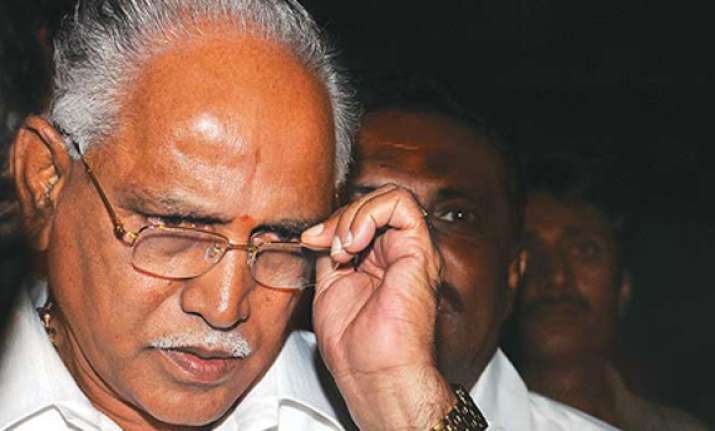 Bangalore, Nov 22:  A CBI special court has issued summons to former Karnataka chief minister B.S. Yeddyurappa, his kin and others in a graft case related to a mining scam case during his tenure from 2008 to 2011, a senior official said Wednesday.
Central Bureau of Investigation (CBI) judge Venkata Sundarshan, who issued the summons Nov 16, directed Yeddyurappa, his sons B.Y. Raghavendra and B.Y. Vijayendra, son-in-law R.N. Sohan Kumar, former minister Krishnaiah Shetty and eight others, including chief executive and vice-president of a steel company in Bellary to appear in court Dec 10.
Raghavendra is a Bharatiya Janata Party (BJP) Lok Sabha member from Shimoga, about 260 km from here, and the home town of Yeddyurappa.
"All the accused have to be present in the special court Dec 10 for cross-examination and further interrogation," the official told IANS on conditions of anonymity.
The summons was issued on the basis of the chargesheet the federal investigation agency filed in its special court Oct 16 against the accused for cross-examination under the Prevention of Corruption Act, 1988, the Karnataka Land (Restriction on Transfer) Act and various sections of the Indian Penal Code, including 120B for conspiracy and 420 for cheating.
The CBI charged Yeddyurappa and his kin with allegedly hatching a conspiracy to purchase a government land near Bangalore for Rs.4 million (Rs.40 lakh) by violating various laws.
"The said land was de-notified (freed from government control) by Yeddyurappa by allegedly abusing his official position in violation of various government rules," the official said, citing the criminal case the CBI registered on the May 11 directive of the Supreme Court.
Later, the same land was sold at an exorbitant rate of Rs.20 crore to JSW Steels and South West Mining even though the guidance value of the land was Rs.1.5 crore.
Yeddyurappa resigned July 31, 2011, after former Lokayuktha (ombudsman) Justice N. Santosh Hegde held him guilty of bribery during a probe into the mining scam.