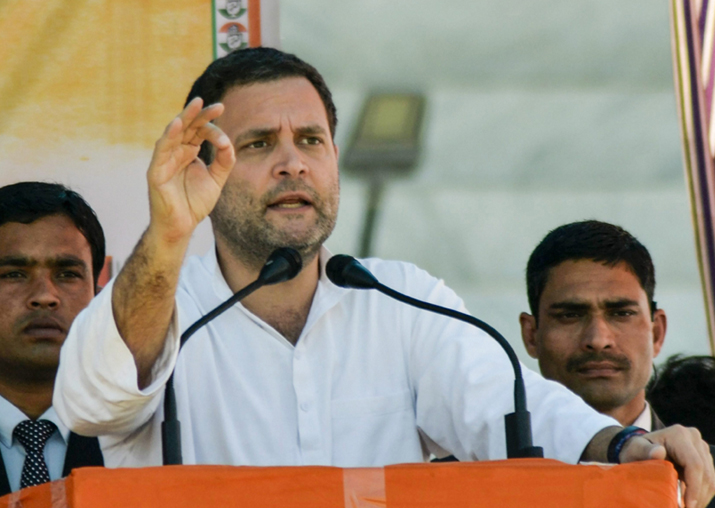 Congress president Rahul Gandhi today stepped up attack on Prime Minister  Narendra Modi over his silence in connection with fraud at Punjab National Bank (PNB) fraud case involving jewellery designer Nirav Modi.
In a tweet, Rahul said that the PM's silence is screaming about his 'loyalties'.
He noted that while Nirav Modi fled the country like Vijay Mallya and Lalit Modi, the people of the country are waiting for the 'chowkidaar' to speak up.
"First it was Lalit, then Mallya, and now Nirav too has given the slip. Where is the 'chowkidaar' who said 'Na khaunga, na khane dunga'? People are eager to know the reason behind saheb's silence. His sealed lips are shouting out where his loyalties lie," Rahul's tweet reads.
The Congress party has been targeting the BJP-led Centre ever since the PNB fraud was unearthed. The party has accused the government of favouring businessmen fleeing the country after looting public money.
On Sunday, Rahul had asked PM Modi and Finance Minister Arun Jaitley to speak up on the multi-crore PNB scam and not behave like 'guilty'. 
पहले ललित फिर माल्या
अब नीरव भी हुआ फरार
कहाँ है 'न खाऊँगा, न खाने दूँगा' कहने वाला देश का चौकीदार?

साहेब की खामोशी का राज़ जानने को जनता बेकरार
उनकी चुप्पी चीख चीख कर बताए
वो किसके हैं वफादार#ModiRobsIndia

— Rahul Gandhi (@RahulGandhi) February 19, 2018
The state-owned PNB, the second largest lender, has detected about Rs 11,400 crore scam where Nirav Modi  acquired fraudulent letters of undertaking (LoUs) from the Brady House branch of the bank in south Mumbai to secure overseas credit from other lenders.