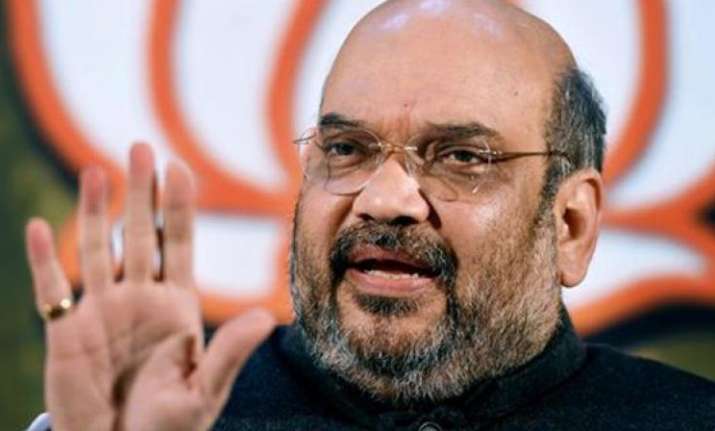 BJP President Amit Shah on Monday said the opposition parties, including the Congress, are suffering from "Modi phobia" and that they have no agenda for the country's development. 
All partners of the BJP in the NDA on the other hand are united and serious about transforming India as the number one country in the world, Shah said.
Shah also hit out at the Naveen Patnaik's BJD government in Odisha and held it responsible for "backwardness" and "poverty" in the mineral-rich state. Its ouster from power is certain in the 2019 election, he told a women's meeting here.
"I want to tell the people that the Congress and all opposition parties are working together for breaking India while (prime minister Narendra) Modi-ji is busy in making India," he said.
The prime minister is seeking to eradicate poverty, but the opposition wants "Modi hatao (defeat)", the BJP president said.
Modi wants to eliminate unemployment, while opposition calls for his removal.
"We (BJP) say put an end to insecurity among people, but they (opposition) want removal of Modi. The opposition has no specific agenda, no neta (leader) and no neeti (policy). Their only programme is removal of Modi as they are suffering from Modi phobia," the BJP President said.
Hitting out at the BJD government in Odisha, which has been in power in the state since 2000, he said, "The Naveen Patnaik government has lost all rights to continue in power in Odisha even for a second as the state remains backward despite abundant mineral resources."
Slamming the Naveen Patnaik government for rejecting the Centre's flagship health insurance scheme Ayushman Bharat, Shah said if the BJP comes to power in the state it would immediately join the programme for the benefit of lakhs of poor people
(With PTI inputs)