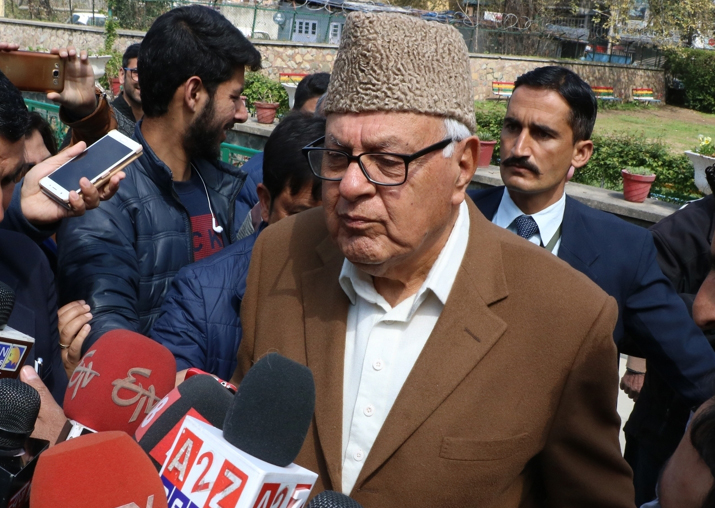 National Conference President Farooq Abdullah on Sunday said he does not have any expectations from newly-appointed J&K interlocutor Dineshwar Sharma and the only way forward in Kashmir is restoration of autonomy to the state.
Addressing a party gathering in border town of Tangdhar in Kupwara district, he said the Central government should devise a sound Kashmir policy and termed the appointment of a new interlocutor to J&K as nothing new.
"I have very little expectations from this new interlocutor. Like it has been done before, he will come and meet people. In 2010, then UPA government appointed a group of interlocutors who visited the state and had detailed discussions with every section here. The process took more than two months and after they were done with meeting people, a report was compiled. What happened to that report? Did the government discuss that report in any forum including the Parliament?," the former CM said.
"No. Instead it has been thrown into a dust bin somewhere in north Block. It was followed by a delegation comprising of parliamentarians who visited Kashmir. What happened to that delegation and their recommendations? Nothing happened. So I expect nothing to happen now as well," he added.
Terming that the Kashmir policy of the Narendra Modi government "has been swinging like a pendulum" ever since they came to power, he said, "The appointment of the new interlocutor is itself mired in controversies. Home Minister Rajnath Singh describes him as an interlocutor whereas the very next day another minister in the PMO designates him as a mere spokesperson."
"So essentially when the mandate given to Dineshwar Sharma is not clearly specified, then what is the fun in having deliberations with him?" he questioned. 
Describing autonomy as core of the party's political agenda and a way forward towards resolution of the political issue of the state, Abdullah said: "Our stand on resolving the issue of J&K politically is loud and clear which is the restoration of pre-1953 situation to the state."
Dineshwar Sharma will head to the Valley on Monday on a five-day visit, his first since his appointment. On Saturday, Sharma held an hour-long meeting with Chief Minister Mehbooba Mufti at her Akbar Road residence in Delhi. This was Sharma's second meeting with Mufti ahead of his visit to the state as interlocutor.
Sharma, who is originally from Bihar and was a Kerala-cadre IPS officer of the 1979 batch, held the Intelligence Bureau director's post from 2014 to 2016.