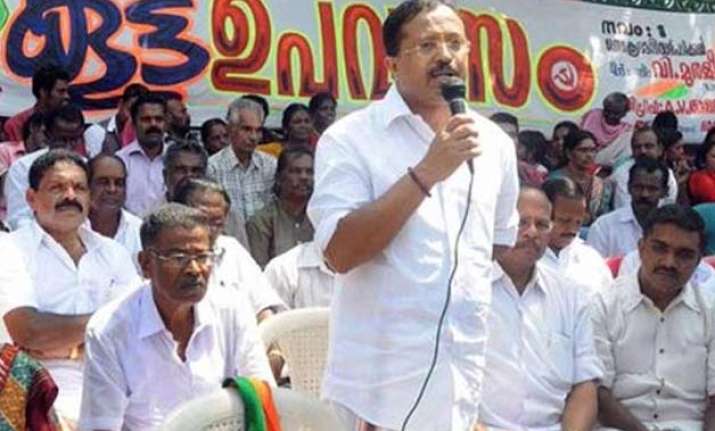 Thiruvananthapuram:  BJP and CPI(M) are observing a shutdown (hartal) today to protest against the last night's attack on their workers at Kattayikonam in the district, which had left at least 16 injured including former BJP state president, V Muraleedharan and some police personnel in the clash last night.
Trouble started after a group of BJP workers took out a procession on a local issue which was allegedly attacked by Democratic Youth Federation of India (DYFI)-CPI(M) workers at Kazhakootam.
The clash took place at a time when Kerala is gearing up for the May 16 polls, which is expected to see the BJP, which is yet to open its account in the state, giving a tough fight to both ruling Congress-led United Democratic Front (UDF) and CPI(M)-led Left Democratic Front (LDF).
Meanwhile, RSS has condemned the attack on Muraleedharan and other party workers and held CPM members responsible for the violence.
"I severely condemn the heinous act of murderous attack on Shri V, Mraleedharan and 26 BJP workers in Thiruvananthpuram by CPM goons on Monday," RSS Saha Sarkaryavah ( Joint General Secretary) Dattatreya Hosabale said in a statement.
"It is clear that CPM is trying to spread the politics of violence to the different parts of Kerala. This is highly deplorable. I do call upon all citizens who have faith in democracy to and peace to come forward in unison to condemn this dastardly attack and fight out the red terror in the state," the statement added.
BJP has called for a 12-hour hartal on Tuesday in the district protesting the attack on its workers by CPI-M.ft Democratic Front (LDF) also have called hartal in Kazhakoottam-Kattayikonam area in protest against the clash.
Shops and commercial establishments in various parts of the district have downed shutters, with vehicles being exempted from the hartal's purview in view of the Secondary School Leaving Certificate (SSLC), Central Board of Secondary Education (CBSE) and various other examinations.
Later at night, the workers of both the parties again clashed at Kattayikonam. Police jeeps and shops were damaged in stone pelting.