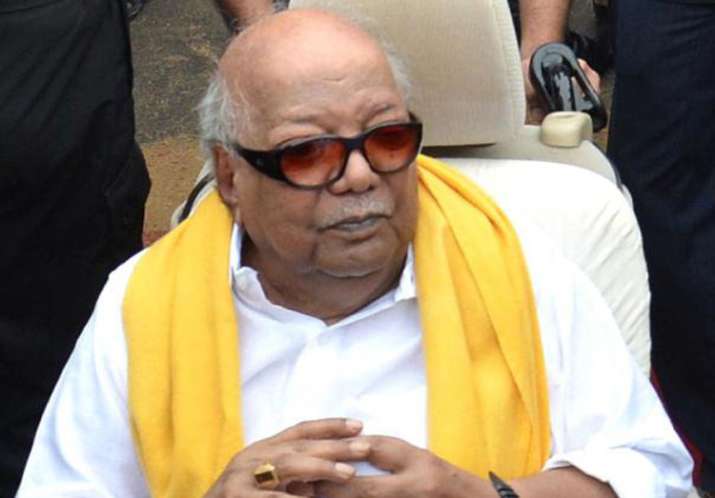 DMK chief M. Karunanidhi's 94th birthday celebrations in Chennai on June 3 is likely to become a virtual strategy meet of opposition leaders ahead of the Presidential elections.
Karunanidhi's daughter Kanimozhi on Saturday met Congress President Sonia Gandhi in Delhi and invited her for her father's birthday celebrations.
A day before, Kanimozhi had met Bihar Chief Minister Nitish Kumar at his residence in Patna and handed over an invitation letter for the birthday function. She also met RJD chief Lalu Prasad and Rabri Devi at their residence and invited them to attend the function. 
The event is likely to be attended by leaders from several opposition parties, JD-U chief Nitish Kumar, RJD supremo Lalu Prasad Yadav, CPI-M General Secretary Sitaram Yechury, CPI leader D. Raja, National Conference leader Farooq Abdullah and NCP chief Sharad Pawar. 
Kerala Chief Minister Pinarayi Vijayan is also expected to attend. 
Kanimozhi said her meeting with Sonia Gandhi did not have a "political agenda", but added that if opposition parties come together then it will emerge as a "stronger voice".
BJP's win in UP, Uttarakhand will help it in presidential polls: Maths here
"I came to invite leaders from other partie also for the birthday celebrations. I brought a letter from our working president M.K. Stalin to be delivered to her (Sonia) and we discussed about that," Kanimozhi told a news channel.
"Definitely this is a meeting of a lot of leaders. But, this is not bringing anything else together. It is just to bring people together with good wishes for my father's birthday." 
"People are talking to each other about the President's election. but this is not an agenda in this function," she said when asked if the function was meant to be a platform to showcase opposition unity. 
Asked if the opposition candidate will be able to make the cut in the election, Kanimozhi said: "I don't know. I don't think there has been any decision which has been reached. So let us wait. It's a little to early to answer these questions."
"There are some important issues like in Tamil Nadu where we are opposing the NEET examinations. If the opposition comes together it will be a stronger voice on particular issues. But, where it is going to go, is a little too early to comment about it," said Kanimozhi to a question if the opposition unity is necessary.
She also said that invitations have been extended to those who were closely associated with Karunanidhi.
Kanimojhi met Nitish Kumar on May 5 and also put DMK working president M K Stalin over phone. 
JD(U) secretary general K C Tyagi, who accompanied her to the CM's residence, said Kumar accepted the invitation and promised to visit Chennai for the birthday function. Tyagi said JD(U) and DMK shared the view to support a common candidate in coming presidential election and would vote together against the NDA nominee for the post. 
Kanimozhi also met Lalu Prasad and his wife Rabri Devi at their residence and invited them to attend the birthday function. 
Lalu Prasad said he would attend the function as he always got love and affection from Karunanidhi. 
Kanimozhi said her party hailed Nitish Kumar's efforts for the country-wide opposition unity. 
Sonia Gandhi initiates process to unite opposition parties for presidential polls
Sonia Gandhi has initiated the process of bringing opposition parties together ahead of the presidential elections in July and evolve a consensus on a common candidate. The move is also being seen as a precursor to the possibility of opposition parties coming together to take on the BJP-led National Democratic Alliance in the 2019 Lok Sabha polls. 
Gandhi has over the past few days met Nationalist Congress Party leader Sharad Pawar, National Conference's Working President Omar Abdullah Janata Dal-United leader Nitish Kumar and Communist Party of India-Marxist chief Yechury and spoken to Samajwadi Party leader Mulayam Singh Yadav and RJD chief Lalu Prasad.
She is likely to meet West Bengal Chief Minister and Trinamool Congress supremo Mamata Banerjee, DMK leader M.K. Stalin and Bahujan Samaj Party supremo Mayawati.
The term of President Pranab Mukherjee will end in July. The BJP-led NDA appears to have an advantage as it has a comfortable majority in the Lok Sabha and rules many of the bigger states. 
The electoral college for the election of President consists of elected members the two Houses of Parliament and members of the legislative assemblies.
(With agencies)