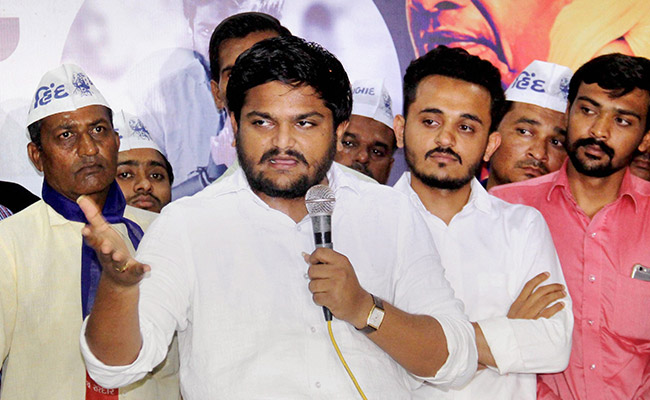 Patidar leader Hardik Patel and Congress leader Arjun Modhwadia met Vishwa Hindu Parishad (VHP) international working president Pravin Togadia in hospital on Tuesday to express support to latter's claim that there are factions within the BJP that are trying to kill him. 
"I don't agree with Togadia on a number of issues, but on this topic, we are as one. Everybody knows the conspiracy being run under Amitbhai and Narendrabhai. It's a known secret that the RSS is against Pravin Togadia," Patel told media after the meeting on Tuesday.
The statement comes in light of claims made by senior VHP leader, who had gone missing on Monday morning and found unconcious later in the day. 
A tearful Togadia, 62, made the allegations at a press conference, where he also said that he went into hiding as he feared police will kill him in an encounter. 
"I am being targeted for a decade-old case, there is an attempt to suppress my voice. Rajasthan Police team came to arrest me. Someone told me plan was being made to kill me in an encounter," Togadia claimed. 
Reacting to these claims, Hardik Patel, who has often clashed with the Sangh Parivar on a number of issues, said a number of groups are under threat under the present government. "The poor people of the state and our farmers are also under threat. There is a real and present danger here. Hindutva isn't under threat, but Hindustan is," he said.
Togadia, who went missing yesterday after Rajasthan Police came to arrest him in a ten-year old case and was later found admitted to a hospital in unconscious state, claimed that attempts were being made to silence him for raising the voice of the Hindu community. 
The VHP leader said he will surrender before the court in Rajasthan after he is discharged from hospital.  "Yesterday morning, I was performing pooja, when messages came that a large contingent of Rajasthan Police, along with Gujarat Police, was coming to encounter me (kill me in an encounter)," Togadia claimed. 
Earlier on Monday, when Togadia was still missing, Hardik Patel raised a series of questions on BJP government. Demanding an inquiry into VHP leader's whereabouts, the Patidar leader tweeted, "Pravin Togadia ji went missing despite Z+ security, it make syou think what can happen to a common man. Pravin Togadia ji had also mentioned it earlier that his life was in danger."
"If Pravin Togadia ji had gone missing during Dr Manmohan Singh government, BJP would have staged violence across the nation," Patel alleged. 
Z+ सिक्योरिटी होने के बावजूद भी प्रवीण तोगड़िया जी ग़ायब हो जाते हैं।सोचने की बात है कि आम आदमी का क्या हो सकता हैं।प्रवीण तोगड़िया जी ने पहेले भी कहा था की उनकी जान को ख़तरा हैं।

— Hardik Patel (@HardikPatel_) January 15, 2018
डो.मनमोहनसिंह जी के सरकार में प्रवीण तोगड़िया जी अगर लापता हो जाते तो भाजपा पूरे देश में हिंसा कर देती ।।
भक्तों को जो बोलना है वो बोल सकते है क्यूँकि इस मुद्दे पर अगर नहीं बोले तो साहब तनख़्वाह नहीं देंगे !!!

— Hardik Patel (@HardikPatel_) January 15, 2018
Watch full press conference of Pravi Togadia here: