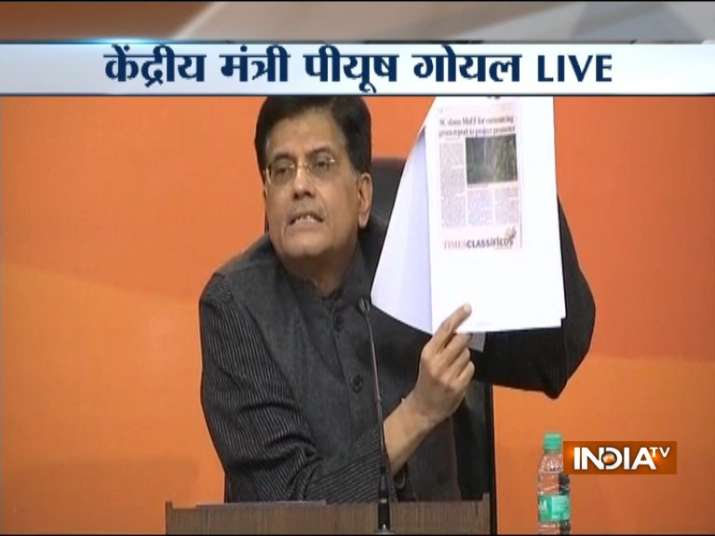 Union Minister Piyush Goyal on Wednesday used a series of email exchanges to accuse the Gandhi family of interfering in governmental decisions during the erstwhile UPA regime. 
Citing e-mail exchanges between former environment minister Jayanti Natarajan and Congress president-elect Rahul Gandhi, Goyal, while addressing a press conference, accused Rahul of meddling in governmental decisions and thereby, installing the Nirma project in Gujarat by instructing Natarajan to not give environmental clearance to it. 
"We have accessed emails in which Jayanthi Natarajan when UPA minister was even willing to go home to meet the personal secretary of Rahul Gandhi. This was how people who were not a part of government interfered in governance during UPA?" said Goyal. 
"Email exchanges between Rahul Gandhi and Jayanthi Natarajan show that all decisions were directly taken by the family and PM Manmohan Singh was just a titular head," he added. 
Goyal also questioned when the Congress would free itself from corruption. Goyal's remarks came after a Delhi court found former Jharkhand Chief Minister Madhu Koda guilty in coal block allocation scam. 
"The way Prime Minister Narendra Modi led National Democratic Alliance (NDA) government has taken action against terrorism it has given a message that India doesn't tolerate terrorism. On the other hand, the tough measures against corruption have given a warning to the corrupt and paved the way for the country to move on the path of honesty," Goyal said.