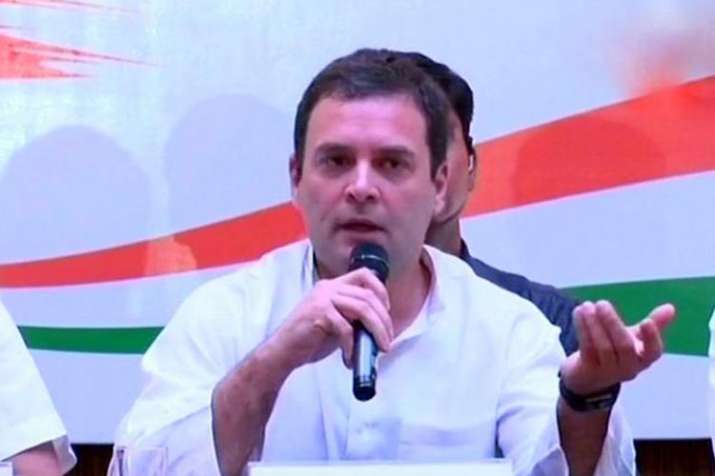 The editor of The Inquilab Urdu newspaper on Monday came out in defence of his story said Congress president Rahul Gandhi had said that the grand old party is a "Muslim party". 
"Why is Congress being defensive and saying that Rahul Gandhi didn't say it (Congress is a Muslim party). He proudly said it. Congress' Nadim Javed who was present in meeting has already clarified on record that there was nothing wrong in our story," said editor Mumtaz Alam Rizvi, reported news agency ANI.
Meanwhile, a combative BJP questioned Rahul Gandhi's "silence" over his reported remarks that the Congress is "a Muslim party". 
The saffron party also hit back at the Congress for alleging that Prime Minister Narendra Modi has a "sick" mentality after he accused the opposition party of standing only for Muslim men.
Senior BJP leader Ravi Shankar Prasad said, reported news agency PTI, "The shameful allegations made by the Congress leader against the prime minister only showed their desperation."
YOU MAY ALSO LIKE TO READ: Monday Talk | Lok Sabha elections 2019: 'I don't think Rahul Gandhi wants to go with AAP at all,' says Sheila Dikshit
He said that Gandhi has not yet given his party's support to the government's initiatives on instant triple talaq, despite the Supreme Court banning the practice.
Taking on the Gandhi scion over his reported remarks in an Urdu daily that the Congress is a Muslims party, Prasad said he is now "patronising" the minority community.
"When Rahul Gandhi goes to Gujarat for elections, he becomes a janeudhari (one who wears the sacred thread) and flaunts his Brahmin lineage. He does the same in Karnataka. Now when the elections are over, he starts patronising the Muslims," he said.
"The issue is why Rahul Gandhi is maintaining conspicuous silence. Why he is not speaking," Prasad asked, news agency further reported.
(With PTI inputs)