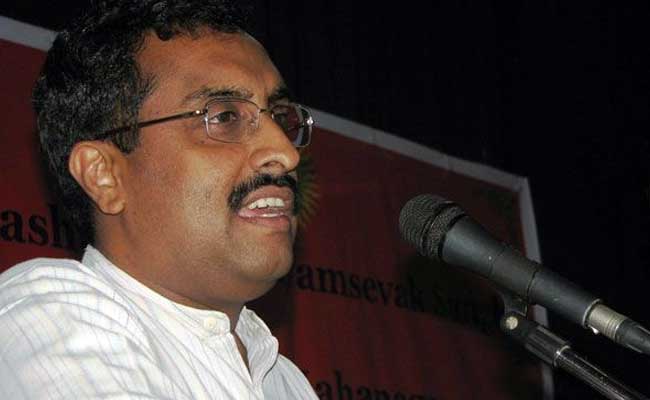 BJP national General Secretary Ram Madhav condemned Sunday's terror attack at an army camp in Uri and urged for strong punitive action against Pakistan.
"To avenge yesterday's Uri terror attack the Prime Minister has promised that those behind the Uri terror attack will not go unpunished.  For one tooth, the complete jaw. Days of so-called strategic restraint are over If terrorism is the instrument of the weak and coward, restraint in the face of repeated terror attacks betrays inefficiency and incompetence. India should prove otherwise," Madhav, BJP general secretary wrote in a Facebook post
Madhav claimed that the footprint of Pakistans involvement in the attack on an army camp in North Kashmirs Uri town was clear and the days of strategic restraint were over.
 

"The footprint of involvement of Pakistan in the attack is clear. Pakistan has become a problem not just for India but for the entire world," he told reporters in Kozikhode condemning the attack.

 
"We feel that time for strategic restraint is over. We need to tackle this menace with a firm hand. We need to take proactive measures and that is why our Prime Minister (Narendra Modi) has said that the perpetrators behind the attack should not go unpunished," he said.
The BJP leader said, "Terrorism is the policy of cowards. In this case, the footprint of involvement of our neighbour is there. They have been using terrorism as a state policy."
"I am confident that the issue will be taken up seriously in the upcoming UN General Assembly. Countries all over the world are realising that most of global terrorist attacks are from the soil of Pakistan", he said.
Later, addressing a seminar ahead of the three-day BJP National Executive Council Meet, schedule for next week, he said the Prime Minister has promised that those behind the attack will not go unpunished.
We are more proactive wherever it is possible. We are no longer strategically restrained,", he said.
"Under Modis leadership, we have a foreign policy which is pragmatic. Our Prime Minister does not believe in reforming but transforming our nation as a world power," he said.
"Our interest forms part of our foreign policy now. Earlier, it was government to government or government to business relations. But this government added some more pillars to the foreign policy," he said.
It was the duty of the government that the dignity of India and every Indian was respected everywhere in the world, he said.
"Today we realise culture has a role to play in international relationships. Culture as a diplomatic tool is what we added to Indias foreign policy," the BJP leader said.