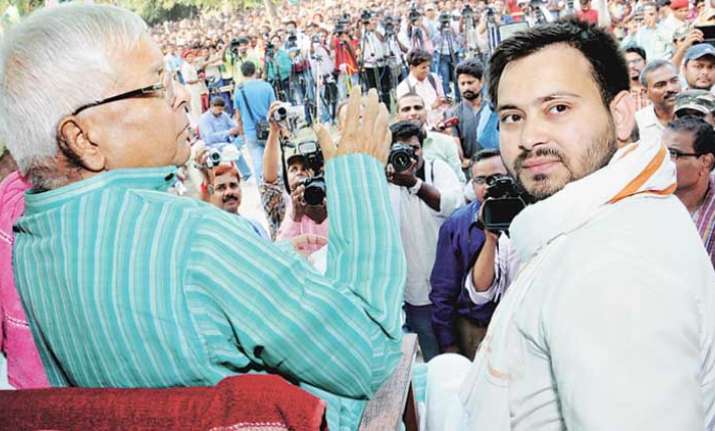 Adding to the woes of Lalu Prasad Yadav and his family, the Central Bureau of Investigation (CBI) on Thursday summoned the RJD supremo and his son Tejashwi Yadav for their alleged involvement in the IRCTC hotels scam. 
Lalu Yadav has been asked to appear on September 11 for questioning, while Tejashwi has been asked to appear on September 12.
On July 5, the CBI had registered an FIR against Lalu, his wife Rabri Devi, their son and former Bihar deputy CM Tejashwi Yadav, and five others in a case of alleged corruption linked to the award of a tender for the maintenance of two railway hotels in Ranchi and Puri in 2006 when the RJD chief was the Union Railway Minister. 
According to CBI, in 2006, Prasad allegedly favoured Sujata Hotels Pvt Ltd, a company owned by two Patna-based businessmen Vijay Kochhar and Vinay Kochhar, while granting the tender for the maintenance of the two hotels. 
In return, the CBI alleged, Rabri Devi and Tejashwi Yadav were given prime property in Patna at throwaway prices.
The accused named in the FIR are: Lalu Prasad; Rabri Devi; Tejashwi Yadav; Sarla Gupta, wife of Prem Chand Gupta, RJD MP and a close aide of Prasad; Vijay Kochhar and Vinay Kochhar, directors of Sujata Hotels and owners of Chanakya Hotel in Patna; Delight Marketing Company Ltd, now known as Lara Projects; and the then IRCTC managing director P K Goel.
The CBI has alleged that Delight owned the land valued at a market price of over Rs 94 crore and a circle rate of over Rs 32 crore, before the company was sold to Lara Projects, owned by Tejashwi and Rabri, for Rs 65 lakh.