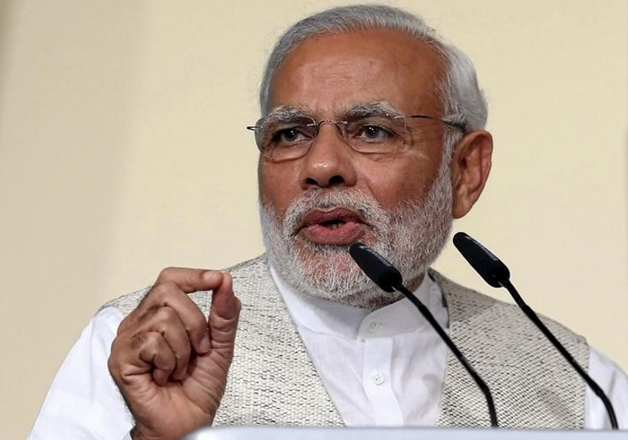 Prime Minister Narendra Modi today said that the Bharatiya Janata Party (BJP) will fight the Uttar Pradesh Assembly polls, slated for early next year, and other states on the issues of development and its focus will be jobs, peace, unity and social justice.
In an interview to CNN-News 18 news channel, the Prime Minister hoped that voters in the most populous state will vote on the issues of development and elect a full majority government.
"There will be elections in five states in coming days and Uttar Pradesh is one of them. As far as the BJP is concerned, we will fight on development issues only. Our focus will be welfare of farmers, villages, jobs for the youth and we will stay committed to the cause of social justice," he said.
"Our focus will be to maintain peace, unity and brotherhood in our country. We will take steps in these regard and move forward," he added.
The Prime Minister said there was 'no atmosphere of vote-bank politics' in the last Lok Sabha elections and there was 'an atmosphere of development politics'.
He said an entire section of society has made a shift towards politics of development.
"After 30 years, a section of our society unitedly voted for a majority government. An entire section of our society has made a shift. It is possible that the people of UP will do a similar thing for betterment of UP, they will vote keeping development in mind," the PM said.
Uttar Pradesh, Punjab, Uttarakhand, Goa and Manipur will go to polls early next year.
Dedicated to welfare of Dalits: PM Modi
The Prime Minister further said that he is dedicated to the welfare of Dalits and that those 'self- appointed guardians' who see this as an obstruction to their politics were creating hurdles and tension in the country.
"All those self-appointed guardians who were trying to create tension in the country did not like that Modi is with the Dalits... That Modi devotes himself to tribals. I am devoted to the welfare of all Dalits, oppressed, underprivileged and deprived," he said.
"Those who see this as an obstruction to their politics are the ones creating trouble. And this is why they are levelling baseless allegations," he added.
The Prime Minister also said that 'political tones' were being given to social problems.
"All those who have fed this country the poison of caste divide have destroyed this country. They must stop giving political tones to social problems. We must go forward with a purpose," he said.
The Prime Minister Modi and the BJP led NDA government have been targeted by opposition parties over the attack on Dalits by cow vigilantes in Gujarat in the name of cow protection.
When asked whether he would not be sparing any 'dynasty' when targeting black money, the PM said he has never tried to get any file opened to settle political scores.
"I do not think from political perspective... I have been a Chief Minister for 14 years, I never opened a file for political reasons. We have not advised to open any file from political point of view. This interpretation that we are not sparing any dynasty is wrong," he said.
The Prime Minister once again warned those with black money to declare it before the given deadline of September 30, adding that stern action might be taken after that.
"The first decision my government took was to make a SIT (Special Investigation Team) on black money. It is working and the Supreme Court is monitoring it. We have also made laws so that no one dares to send black money abroad from India. So more black money will not be generated," he said.
"For black money at home, we have changed the law, and there is a scheme till September 30 for anyone who wants to join to mainstream. If you made a mistake knowingly or unknowingly (by keeping black money), come to the mainstream now, I have given a way... If I take stern steps after the 30th, no one can blame me," he said.
The Income Declaration Scheme (IDS) which opened on June 1 gives a chance to black money holders to come clean by declaring the assets by September 30 and paying tax and penalty of 45 percent on it.
With IANS Inputs