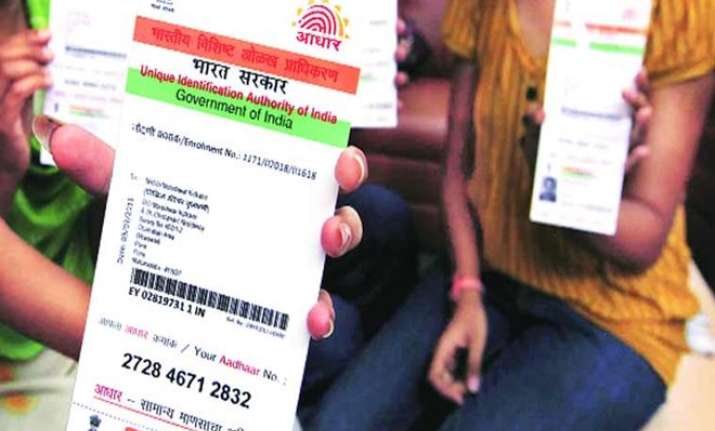 New Delhi: The Aadhaar Bill, aimed at providing a unique identity to the residents, was passed in the Lok Sabha today. The bill also serves the purpose of ensuring that the government's subsidies reach the beneficiaries.
The Aadhaar (Targeted Delivery of Financial and Other Subsidies, Benefits and Services) Bill, 2016, was passed by a voice vote after a brief debate, during which Finance Minister Arun Jaitley assured the house that details provided for the card will not be misused in any manner.
When enacted, the bill intends to empower the government in providing targeted services to the intended beneficiaries by assigning them unique identity numbers, called Aadhaar. It will be given to every person who has stayed in India for 182 days in the year preceding the date of application.
In a discussion with the house earlier in the day, Arun Jaitley insisted that the bill's focus was entirely on the usage of government money for targeted subsidy.
Jaitley also asserted that it was a money bill, overruling Congress' objections that it has been turned into a money bill to avoid voting in the Rajya Sabha where the government does not have a majority.
As the Finance Minister proposed taking up the bill for consideration, BJD's B Mahtab expressed concern over possible "invasion of privacy" if it in its current form becomes a law and sought that it be referred to a standing committee, saying the government should not rush.
Mallikarjun Kharge (Cong) and P Venugopal (AIADMK) supported the BJD leader's demand, with the former saying that they were not against it but there are "flaws".
Jaitley said discussion on the institution of Aadhar has been going on for over seven years after the then UPA government approved a bill in September, 2010 and introduced it in Parliament in December.
"Entire discussion in seven years has now culminated," he said, noting that it was discussed in standing committee and extensive public suggestions were also received, as he stressed that the government had taken note of all this.
He said the proposed law will help in targeting government subsidy at intended beneficiaries which will result in a lot of savings.
Jaitley told the House that similarly, targeted subsidy through Aadhar cards of LPG consumers had resulted in over Rs 15000 crore of savings at the Centre. Four states which had started PDS delivery by a similar exercise on a pilot basis, had saved more than Rs 2300 crore.
"Focus is primarily on the usage of money belonging to Consolidated Fund of India belonging to either the Centre or states," he said as he pushed for its passage.
He also refuted Kharge's criticism for making it a money bill and said the measure is "distinctly different" from the one tabled by the UPA and "the earlier we implement it, it will be better."
Jaitley also sought to allay privacy concerns, saying the bill has made provisions for that.
There will be no sharing of Aadhar data without consent of residents and no biometric data will be shared even with their consent.
He said 97 per cent of adults have Aadhar cards while 67 per cent of minors have it as well. Five to seven lakh people are being added every day, he said.
(With agencies inputs)