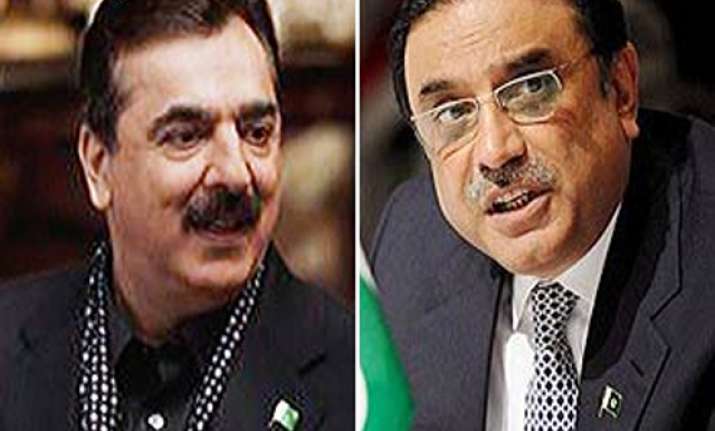 Islamabad, Jun 26:
Pakistan President Asif Ali Zardari's ordinance giving constitutional protection to all decisions made by former premier Yousuf Raza Gilani during the period he was disqualified, was today challenged in the Supreme Court.
A petition filed in the apex court said the court had not yet issued a detailed judgement indicating the complete consequences of Gilani's disqualification, including the decisions made by him and his cabinet.  
The petition contended that the President had granted "unconstitutional" indemnity to the former premier's actions.  The petition further claimed that the ordinance had undermined Parliament's legislative authority and the judiciary's constitutional rights.
It could not immediately be ascertained if and when the apex court would hear the petition.
On Sunday, Zardari issued an ordinance that gave legal cover to all actions taken by Gilani between his conviction by the Supreme Court on April 26 and his disqualification on June 19.
The ordinance said all decisions made by Gilani during this period could not be challenged in any court or forum, including the Supreme Court.
An official notification said the President had issued an ordinance because both houses of parliament were not in session.
The notification had stated that "no suit, prosecution or any other legal proceedings, including a petition, shall lie in any court or forum including the Supreme Court" against any decisions by Gilani.
On June 19, the Supreme Court disqualified Gilani due to his conviction of contempt for refusing to reopen graft cases in Switzerland against Zardari.
A three-judge bench led by Chief Justice Iftikhar Chaudhry further ruled that the post of premier had been vacant since April 26, when another bench had convicted Gilani of contempt.  
Several petitions filed in different courts said Gilani's decisions from April 26 onwards should be declared null and void.