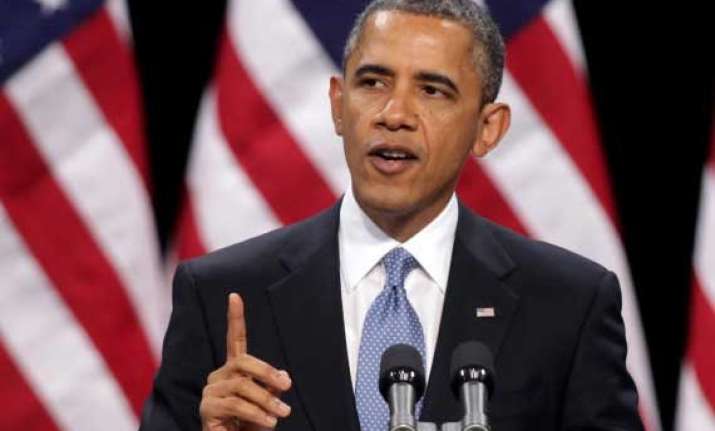 Washington: Allaying fears about spread of Ebola in the US, President Barack Obama today asserted that the country was not facing an outbreak of the deadly virus and it was fully prepared to confront the challenge posed by the disease.
Obama, in his weekly radio and web address to the nation, said he and his entire administration will continue to do everything possible to prevent further transmission of the disease domestically and to contain and end the Ebola epidemic at its source in West Africa.
"This is a serious disease, but we can't give in to hysteria or fear because that only makes it harder to get people the accurate information they need. We have to be guided by the science," Obama said.
"What we're seeing now is not an 'outbreak' or an 'epidemic' of Ebola in America. We're a nation of more than 300 million people," he said, pointing out that till date three cases of Ebola have been diagnosed in the country.
He went on to detail the three cases which are of a man who contracted the disease in Liberia who came to the US and sadly died and that of two courageous nurses who were infected while they were treating the man.
"Now, even one infection is too many. At the same time, one has to keep this in perspective," he said.
Obama said Ebola is actually a difficult disease to catch as it is not transmitted through the air like the flu.
"You cannot get it from just riding on a plane or a bus. The only way that a person can contract the disease is by coming into direct contact with the bodily fluids of somebody who is already showing symptoms. I've met and hugged some of the doctors and nurses who've treated Ebola patients. I've met with an Ebola patient who recovered, right in the Oval Office. And I'm fine," he explained.
"We know how to fight this disease. We know the protocols. And we know that when they're followed, they work. So far, five Americans who got infected with Ebola in West Africa have been brought back to the United States and all five have been treated safely, without infecting healthcare workers," he said.
Obama said one cannot just cut off from West Africa, where this disease is raging.
The US President has also named an "Ebola czar" to coordinate the US response to the deadly virus.
Attorney Ron Klain has been named as an "Ebola czar" by Obama to coordinate the US response to the Ebola outbreak, amid growing fear over its spread beyond West Africa.
Meanwhile, Secretary of State John Kerry yesterday said that a collective global response is required to adequately address the Ebola crisis.