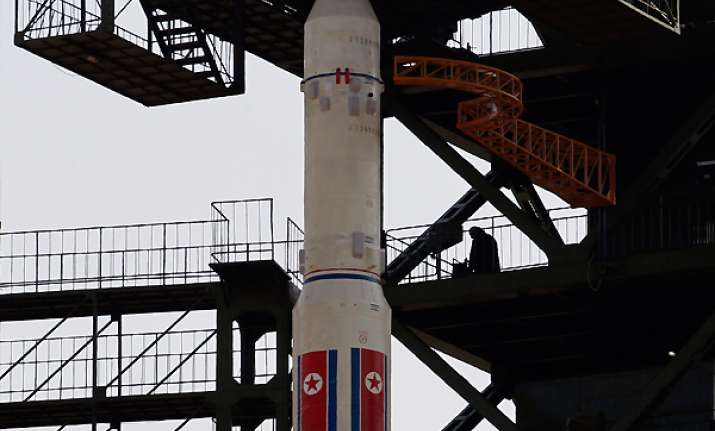 Washington, Apr 13:
The US has accused North Korea of "violating" international law by its "provocative" act to launch a long-range rocket - even though it was a failed attempt—hours after the top eight powerful countries asked it not to do so.
"Despite the failure of its attempted missile launch, North Korea's provocative action threatens regional security, violates international law and contravenes its own recent commitments," White House Press Secretary Jay Carney said.
"While this action is not surprising given North Korea's pattern of aggressive behaviour, any missile activity by North Korea is of concern to the international community. The US remains vigilant in the face of North Korean provocations, and is fully committed to the security our allies in the region," Carney said in a statement.
President Barack Obama was clear that he was prepared to engage constructively with North Korea.
However, he has also insisted that North Korea live up to its own commitments, adhere to its international obligations and deal peacefully with its neighbors, he noted.
By such an act, North Korea is only further isolating itself by engaging in provocative acts, and is wasting its money on weapons and propaganda displays while the North Korean people go hungry, Carney said.
"North Korea's long-standing development of missiles and pursuit of nuclear weapons have not brought it security - and never will. North Korea will only show strength and find security by abiding by international law, living up to its obligations, and by working to feed its citizens, to educate its children, and to win the trust of its neighbours,"he said.
US Defense officials, who were monitoring the missile launch, said that it was a complete failure.
"The missile was tracked on a southerly launch over the Yellow Sea," the Pentagon said in a statement.
The US systems detected and tracked a launch of the North Korean Taepo Dong-2 missile at 6:39 PM New York time.
"Initial indications are that the first stage of missile fell into the sea 165 km west of Seoul, South Korea.The remaining stages were assessed to have failed and no debris fell on land. At no time were the missile or the resultant debris a threat," the statement said.