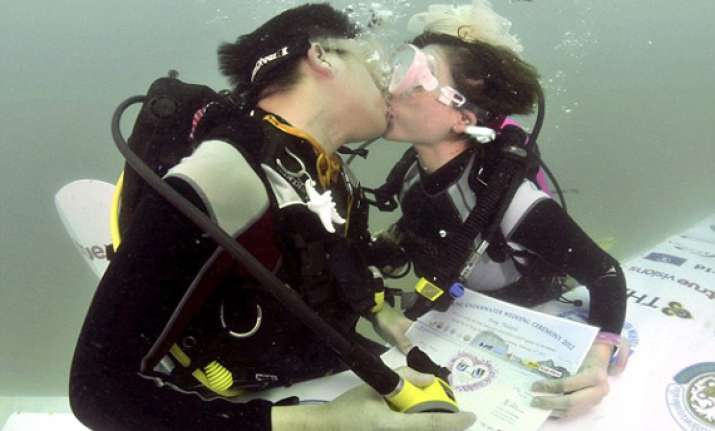 Bangkok, Feb 12 : Six scuba-clad couples gargled an  " I do " at Thailand's 16th annual Trang Underwater Wedding Ceremony  on Saturday.

The couples from both local and foreign countries dived 12 meters beneath the Andaman Sea to attend a traditional Thai wedding ceremony, mixed with obvious modern adaptations.

American Alexander James Nicholson with his Thai-US bride Sonya Sozanski, held up their laminated wedding certificate triumphantly among swirling bubbles while his wife formed an 'I love you' sign with her left hand.
A second couple from Thailand, Manit Kansadanpipob and his bride Nachakul Sirityoungkul were photographed removing their mouthpieces briefly for their first kiss as man and wife at the underwater alter south of Bangkok.
The now presumed Mrs Kansadanpipob doned a festive white bow on her head above her light pink goggles while Mr Kansadanpipob was decorated with a white starfish pinned at his collar.

All of the marriage certificates are signed beneath the waves, reports Daily Mail.

The underwater wedding ceremony in the Trang province is a three-day Valentine's Day celebration held by the Trang Chamber of Commerce annually.
Brides and grooms not interested in tying the knot underwater have the other option of an above ground ceremony mutually consisting with Buddhism rituals.

At their arrival to the province Friday, the couples plant Sri-Trang trees at the Peninsular Botanic Gardens in commemoration of their upcoming marriage.

According to the ceremony's website describing Thai tradition, the brides and grooms, following their vows, are escorted to their honeymoon suites by an 'old happily-married couple in accordance with the long belief to bring peace and long-lasting relationship as well as the eternity of love to the bridal couples.'

The couples also wear hand-woven Thai wedding attire.

All of the weekend's couples are scheduled to conclude their ceremonies Saturday evening over dinner, music, dancing as well as a firework display on the Rajamonkol beach before returning to Bangkok on Sunday evening.