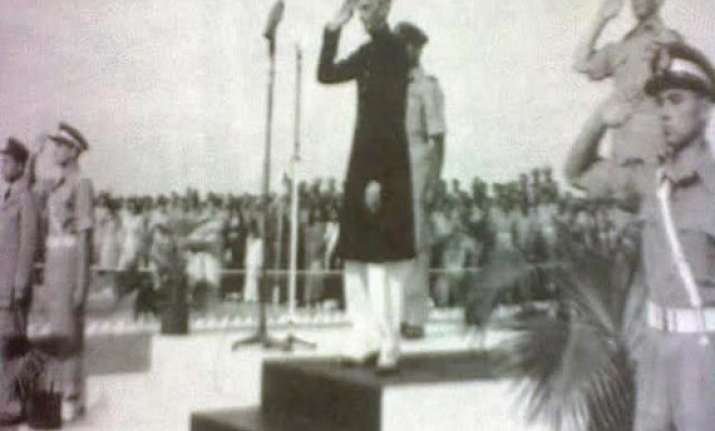 New Delhi: Today (Aug 14) Pakistan is celebrating its 67th Independence Day with traditional zeal and enthusiasm. Special prayers are being  offered to get rid of terrorism, poverty and corruption.The nation is striving hard to cast off doubts about Pakistan heading fast towards a failed state.
Pakistan was created on August 14, 1947 after undivided India was partitioned into two Dominions by the British. Pakistan then consisted of West Pakistan and East Pakistan, but during the 1971 war, Indian army liberated East Pakistan, and a new nation Bangladesh came into being, junking Mohammed Ali Jinnah's two-nation theory.
Since then, Pakistan had been waging a war "of thousand cuts" against India by resorting to sponsored jihadi terrorism.
The credit of formation of Pakistan goes to The Pakistan Movement or Tehrik-e-Pakistan, which was led by lawyer Muhammad Ali Jinnah, now Pakistan's Father of the Nation.Jinnah was an able lawyer in Mumbai, and was part of Indian National Congress. He even appeared in court for Bal Gangadhar Tilak in the famous sedition case in Pune, but later Jinnah got disillusioned with the Congress.
The All-India Muslim League rose to popularity in the late 1930s with a large number of Muslims fearing they would be neglected in national politics dominated by the Congress.
In his presidential address of 29 December 1930, Pakistan's famous poet Muhammad Iqbal  called for "the formation of a consolidated North-West Indian Muslim State" consisting of Punjab, North-West Frontier Province, Sind and Baluchistan.
Muhammad Ali Jinnah, the founder of Pakistan, espoused the two-nation theory and led the Muslim League to adopt the Lahore Resolution of 1940, popularly known as the Pakistan Resolution.
In early 1947, Britain announced its decision to quit India.  In June 1947, Congress leaders including Jawaharlal Nehru and Abul Kalam Azad, Muslim League leader Muhammad Ali Jinnah and Sikh leader Master Tara Singh agreed to the proposed terms of transfer of power and independence, to be effective August 15, 1947.
Millions of people on both sides of the border migrated, thousands of people were slaughtered and women raped as a consequence of a bloodied Partition.
The modern state of Pakistan was established on 14 August 1947 comprising provinces of Balochistan, East Bengal, the North-West Frontier Province, West Punjab and Sindh.
It has been stated that British Viceroy Mountbatten preferred partition on August 15, as two years ago, on this date the Japanese forces surrendered to the Allies in the Second World War.
Here are some pics relatig to Pakistan's journey to a nation: