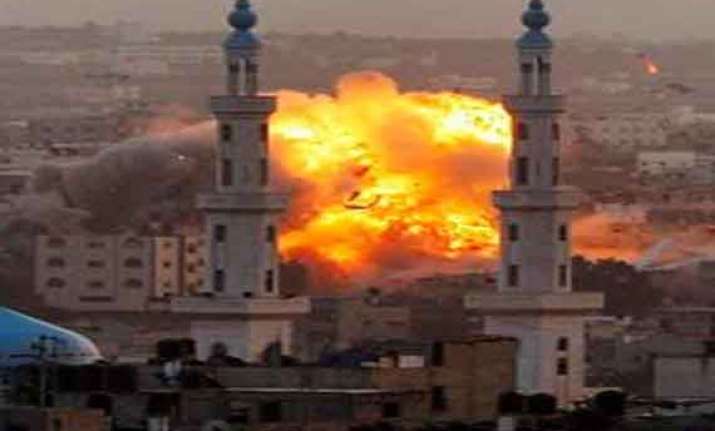 Gaza, Nov 18: Two Palestinians were killed in a new Israeli air strike on central Gaza on Saturday, raising the death toll to 42, the emergency services in the territory said.
In a statement, the emergency services announced two deaths in the strike on Deir al-Balah, which came as Israel renewed raids across Gaza, including in Gaza City and Rafah.
At least four people were also wounded in the strike on Deir al-Balah, which followed multiple raids during the day that killed 10 Palestinians, eight of them militants.
Nine Israelis, including four soldiers, were hurt by rocket fire, medics said.
The bloodshed raised to 42 the number of Palestinians killed in just over 72 hours of Israeli air strikes, while 393 were wounded, Gaza's emergency services said.
Over the same period, three Israelis have been killed by rockets and another 18 injured, 10 of them soldiers, police and the army said.
Earlier attacks on Rafah killed five people -- an ambulance worker called Awad Nahal and four Hamas militants.
One of the militants was named as Mukhlis Adwan, but the identities of the other three were not immediately available.
Another three people -- all Hamas members -- were killed in a strike on Maghazi refugee camp in central Gaza, with security sources naming them as Ali Manameh, Hossam Abdel Jawad and Assaf Gharwish.
Palestinian medics said another man, an Islamic Jihad militant wounded in a strike on Zeitun in Gaza City earlier in the day, died of his injuries. They named him as Mohammed Yassin, 24.
Meanwhile in Israel, nine people were injured by rocket fire today. Four were soldiers who sustained light injuries, the army said, with military sources saying they were "inside a building" at the time.
The military said the incident occurred in the Eshkol regional council area, and Hamas militants claimed the attack, saying they had fired five mortar rounds at a "position" in Reim some eight kilometres from central Gaza.