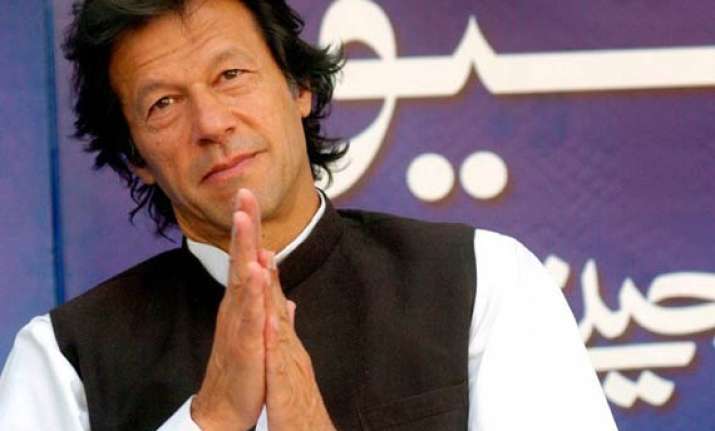 Islamabad, August 14: Pakistan's cricketer-turned-politician Imran Khan has crisscrossed the terror-scarred country, addressed rallies and led dharnas when the country's top politicians have confined themselves to their fortress-like houses in exclusive security zones, reports Times of India.

The world cup-winning captain also did the unthinkable by leading a dharna under open sky in northwestern city of Peshawar that has seen near-daily Taliban attacks in the last few years.

Is the 1970s and 80s heartthrob a fool rushing where angles fear to tread? No, say his admirers who call him the next big thing in Pakistan's politics.
 
They assert that Imran would most likely emulate his exploits in the cricketing field in electoral politics in 2013 when Pakistan goes for the next general elections.
Latest surveys ranking Imran by far the most popular Pakistani politician must be music to their ears.

In a YouGov@Cambridge opinion poll in July, 77% respondents considered him the best-suited politician to lead the country.

Just 11% backed former PM Nawaz Sharif and 13% present incumbent Yousaf Raza Gilani.

Earlier, 86% respondents in a Newsweek Pakistan poll backed the cricketer-turnedpolitician to lead the country while US-based PEW survey ranked him the most popular politician in the country with 78% people surveyed giving him thumbs up. He is often described as "clean", a word rarely used to describe Pakistani politicians.

It is this image that boosts his popularity in a country where 94% people, according to the Cambridge survey, consider corruption as Pakistan's biggest problem. His criticism of US policy in Pakistan where many have died in the American drone attacks has also boosted his stature. Many say Pakistan's all-powerful army also favours him, as they do not want inept and corrupt political and social elite to continue ruling the country.