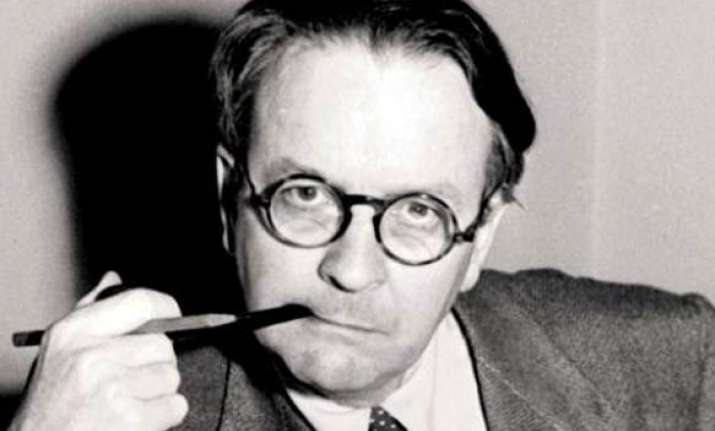 San Diego, Feb 14: Author Raymond Chandler's wish to spend eternity alongside his beloved wife was fulfilled Monday after her remains were buried over his casket in a Valentine's Day ceremony in San Diego.
More than 100 literary fans watched Cissy Chandler's ashes arrive at San Diego's Mount Hope Cemetery in a caravan of 1920's-era cars as a Dixieland band played "When the Saints Go Marching In."
The reverend from the Episcopal church in La Jolla that conducted the author's funeral in 1959 presided over the ceremony, where a new grave marker commemorating their reunification was unveiled.
"It was wonderful, everyone was thrilled," Chandler historian Loren Latker, who worked for years to reunite the couple, said after the ceremony.
For more than five decades, the dead couple was kept a block apart, Chandler in the cemetery and his wife in a metal locker in the basement of a mausoleum. That was because Chandler died with his affairs in disarray, leaving no instruction for what to do with his wife's ashes, which were placed in the mausoleum after she died in 1954.
The two might have remained apart forever had not Latker found references to Chandler wishing to be buried alongside his wife. With the help of Aissa Wayne, an attorney and daughter of film star John Wayne, he was able to persuade a Los Angeles judge in September to bring the two together by approving reburial.
"To honor their last wishes and be able to go and pay respect to these people, that's why we did what we did," Latker said.
Guests at the ceremony included actor Powers Boothe, who starred in the 1980's HBO series "Philip Marlowe, Private Eye" based on Chandler's detective novels. Besides listing their names, birth and death dates, the new grave marker mentions the couple's nicknames and a famous line from Chandler's novel "The Big Sleep."
It said: "Dead men are heavier than broken hearts." AP