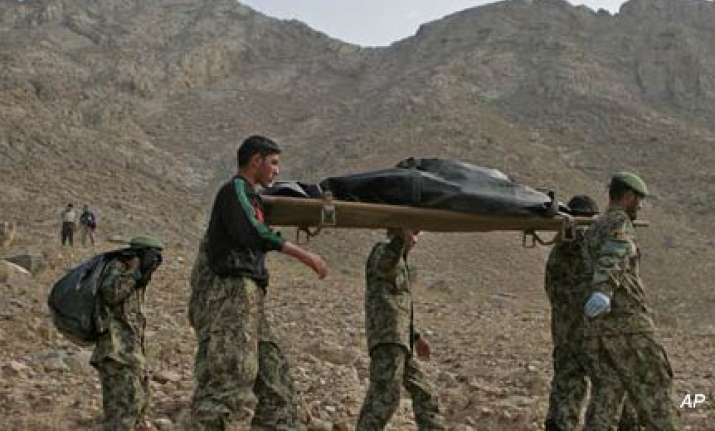 Kabul, Oct 13:  Five charred bodies were recovered today from the wreckage of a cargo plane carrying NATO supplies that slammed into a mountaintop east of Afghanistan's capital with eight people aboard, including an Indian.  One Indian, one Kenyan and six Filipinos, were aboard the flight. Kabul Airport Director Mohammad Yaqub Rassuli said all eight were believed dead. Rassuli said the aircraft was carrying supplies for NATO forces.  
Searchers scoured the blackened site high up the mountainside for three other crew members missing and feared dead, said police Gen. Zulmayi Horya Khail.
The plane went down east of Kabul shortly after taking off Tuesday evening from Bagram Air Field, the main US military base in Afghanistan. The cause of the crash wasn't immediately known.  Weather conditions were clear at the time.  
Hundreds of Afghan security forces in fatigues carrying M-16 rifles gathered at the bottom of the mountain Wednesday. Smoke could be seen rising from the scattered wreckage.  The plane, owned by United Arab Emirates-based TransAfrik, was under contract by the U.S.-based company National Air Cargo.  
"The company has confirmed that a TransAfrik L-100 aircraft flying from Bagram to Kabul went down shortly before 8 p.m.," National Air Cargo said in a statement. "Our thoughts and prayers go out to the crew and their families." The L-100 Hercules aircraft is the civilian equivalent of a military C-130 plane.  
NATO said in a statement the crash occurred about 16 miles (30 kilometers) east of Kabul International Airport.  
In May, a passenger plane operated by Pamir Airways, a private Afghan airline, crashed while traveling from Kunduz in northern Afghanistan to the capital. All 44 passengers on the plane died. AP