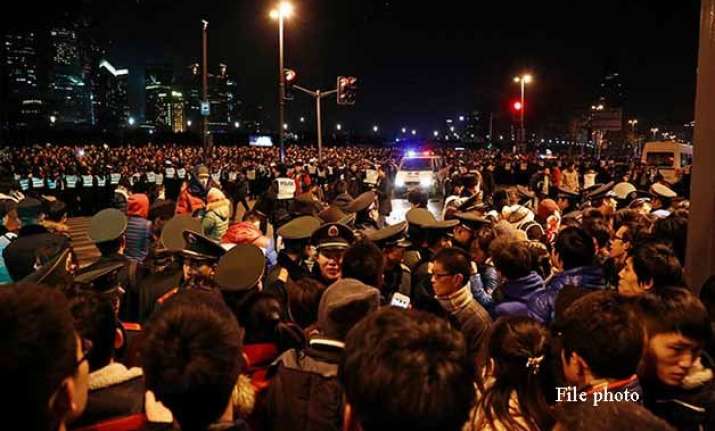 Shanghai: Shanghai announced on Wednesday it fired four top officials and disciplined seven others over a New Year's Eve stampede that killed 36 people, saying some of the officials were attending an opulent banquet as the disaster unfolded.
The city government cited the banquet -- held at public expense -- as hampering the response, violating Communist Party rules and adding to public discontent over the Dec. 31 stampede in the city's historic riverfront Bund area.
An investigation report blamed top government, police and Communist Party officials in Shanghai's Huangpu District for insufficient precautions at the scene as well as lapses in emergency response to the disaster --the worst to hit one of China's showcase cities in recent years.
Shanghai Vice Mayor Zhou Bo, a key member of the investigation team, said the city sends its "deepest condolences" and "deepest apologies" to families of the victims.
"The incident of December 31 should not have happened and was totally avoidable," Zhou said at a news conference. "We feel very pained, guilty and responsible for this."
The district's Communist Party secretary Zhou Wei, government chief Peng Song, police chief Zhou Zheng and deputy police chief Chen Qi were fired and seven other officials demoted or otherwise disciplined, Shanghai Municipal Bureau of Supervision Deputy Director Wang Yu told a news conference.
Zhou and Peng were among officials who the report said joined the banquet at a fancy Japanese restaurant in Shanghai after attending public events linked to New Year festivities. The city government said the banquet violated the party's frugality rules because public money was spent.
The stampede took place about a half-hour before midnight on a set of concrete steps at a riverfront area where a light show normally is shown, although the show had been canceled.
Three dozen people, including a 12-year-old boy, were trampled and asphyxiated amid the crowd of hundreds.
Of the 49 people injured after the disaster, three remain in hospital, including an 18-year-old woman in intensive care.
Shanghai has announced a series of measures to prevent similar accidents, including electronic signboards and public address systems in areas prone to overcrowding.
Chinese relatives have questioned whether authorities adequately notified the public of the cancellation of the light show. They also have questioned whether the city government took proper emergency measures when hundreds of thousands of people still swarmed to the Bund, and whether police and medics responded effectively after the stampede.
Fan Zhizhong, whose sister-in-law Gu Yinli died in the hospital, said in telephone interview that the result was "pretty fair" and much as he expected, but that he still had questions about how the medical response was handled.
"We have no evidence to show that the hospital didn't do a good job in rescuing, but we have doubts," Fan said.
Shanghai officials have canceled other events as a precaution, including a Lunar New Year lantern festival next month, and kept tight controls over gatherings of the victims' relatives to prevent them from coalescing into a group that could draw sympathy and galvanize public calls for even greater accountability.