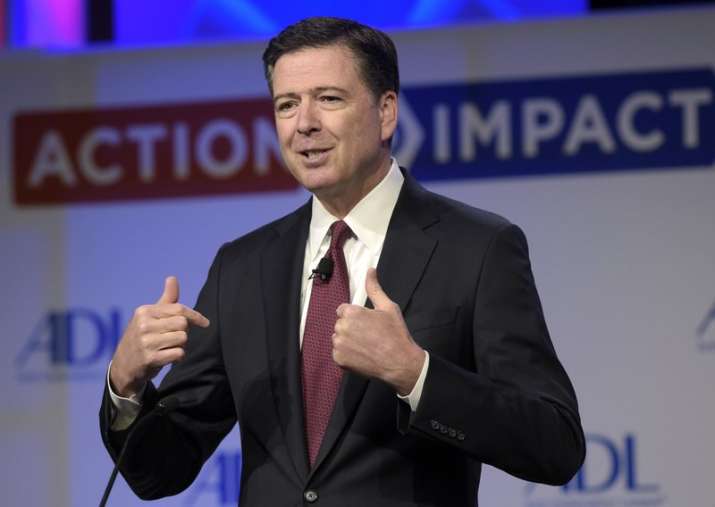 US President Donald Trump will not assert executive privilege to block former director of the Federal Bureau of Investigation (FBI) James Comey from testifying before Congress over the Russia probe, the White House said Monday. 
White House spokeswoman Sarah Huckabee Sanders said the president's power to invoke executive privilege is "well-established." But she said Trump wanted to allow for a "swift and thorough examination of the facts" related to Comey's ouster and the multiple investigations into his campaign's possible ties to Russia.
"In order to facilitate a swift and thorough examination of the fact sought by the Senate Intelligence Committee, President Trump will not assert executive privilege regarding James Comey's scheduled testimony," she told a daily press briefing.
Comey is scheduled to testify Thursday before the Senate intelligence committee. His appearance will mark his first public comments since he was abruptly fired by the president on May 9. He is expected to be asked about details surrounding his dismissal and the ongoing FBI probe into the alleged collusion between the Russian government and members of Trump campaign.
White House officials had weighed trying to block Comey by arguing that his discussions with the president pertained to national security and that there was an expectation of privacy. However, officials ultimately concluded that the optics of taking that step would be worse than the risk of letting the former FBI director testify freely.
Legal experts have also said that the president likely undermined his ability to assert executive privilege by publicly discussing his dealings with Comey in tweets and interviews.
The US president has the power to resist certain subpoenas and other interventions by the legislative and judicial branches to access information and personnel relating to the executive branch.
"The president's power to assert executive privilege is well established," Sanders said at the briefing.
Lawmakers in both parties have urged Trump to allow Comey to testify publicly. On Sunday, Sen. Roy Blunt, a Missouri Republican and a member of the intelligence committee, said the president would be "better served by getting all this information out."
"Sooner rather than later, let's find out what happened and bring this to a conclusion," Blunt said on "Fox News Sunday." ″You don't do that I think by invoking executive privilege on a conversation you had apparently with nobody else in the room."
Comey has been the epicentre of much of Washington's political drama since last year's presidential election, when he twice opened probes into Democratic nominee Hillary Clinton's improper handling of classified emails, which Hillary said partly contributed to her defeat.
After revelations of a possible collusion between Trump's campaign and the Russian government came to light after his ascension to the White House, Comey was reportedly asked by Trump to drop the investigation into the matter, in particular regarding former Presidential National Security Advisor Michael Flynn.
The former FBI chief has reportedly wrote in a memo that Trump asked him to shut down the FBI's probe into Flynn and his Russian contacts. The White House has denied the president made that request.
Flynn was fired after less than a month because of revelations that he misled Vice President Mike Pence about his communications with Russia's ambassador to the United States.
The Trump administration fired Comey in early May, citing his handling of the Clinton email investigation during the 2016 U.S. elections. But Trump himself has repeatedly said that the Russia probe was on his mind when he removed Comey.
Thursday's hearing will be the first time for Comey to make public remarks on the issues, which will have significant implications, including possibly prompting the US Congress to launch a investigation into possible Russian links in the White House.
Comey is also likely to be asked by lawmakers about Trump's assertion that the former FBI chief told him three times that he was not under investigation as part of the federal probe into his campaign's possible Russia ties. He later tweeted that Comey better hope there are no "tapes" of their conversations.
The White House has rebuffed questions about whether Trump was suggesting he had recorded his discussions with the former FBI chief.
(With agencies)