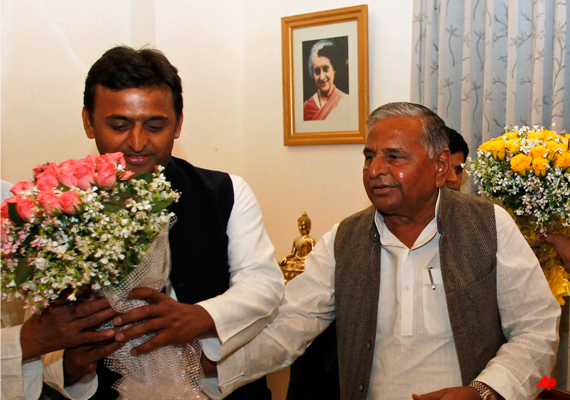 Lucknow, Mar 11: The Samajwadi Party which ousted Bahujan Samaj Party from power in Uttar Pradesh in the Assembly elections registered an increase of 3.72 per cent vote share over its 2007 performance, resulting in handsome returns for the party.

The SP increased its vote share to its highest 29.15 per cent of total votes polled, up from 25.43 per cent, helping to to raise the party tally from 97 last time to a record 224.

In comparison, the BSP lost 4.52 per cent of its votes to 25.91 per cent this time from its highest-ever vote share of 30.43 per cent in 2007. Its tally came down to 80, against a record 206 in the last assembly polls.

The Congress, which carried out a whirlwind campaign in the state under the leadership of Rahul Gandhi, could increase its tally by six seats to 28 seats, but managed to increase 3.03 per cent of its vote share to 11.63 per cent this time, up from 8.61 per cent in 2007.

On the other hand, the BJP which is continuously losing its vote share in the state during the last three elections - managed only 15 per cent of total votes polled, down from 32.51 per cent in 1996 assembly polls to 20.12 per cent in 2002 assembly polls to 16.97 per cent vote share in 2007 assembly polls.

BJP which won 47 seats this time, also lost four seats from its last tally of 51 seats in 2007, down from its tally of 88 in the 2002 assembly polls.

SP polled only 3.24 per cent more votes than BSP, the difference in the number of seats between the two parties was of 144 seats.

While the difference in vote shares of the two parties was 3.69 per cent in 2007 assembly polls, the difference in the number of seats between the two last time was lesser at 109 seats.

The Congress vote share was 8.96 per cent in the 2002, which declined marginally to 8.61 per cent in 2007 but increased this time to 11.63 per cent.

The Ajit Singh-led Rashtriya Lok Dal which reduced its tally from 10 to nine this time, lost its vote share this time to 2.33 per cent, against 3.7 per cent in 2007 polls and 2.49 per cent in 2002.

The Peace Party led by Ayub Khan, which claimed to garner the Muslim votes, however, managed a 2.35 per cent vote share of the total votes this time and won four seats, though put up its candidates in as many as 208 assembly seats.

The vote share of Independents also got reduced to 4.13 per cent, down from 6.97 per cent in the last assembly polls in 2007 when as many as nine independents had won. This time, only six independents could win.

In 2002 polls, as many as 16 independents had won in Uttar Pradesh Assembly, when their vote share was 7.67 per cent.

Smaller parties like Quami Ekta Dal, which won two Assembly seats, bagged a vote share of 0.55 per cent. The Ittehad-E-Millait Council, Nationalist Congress Party (NCP) and Apna Dal, which bagged one assembly seat each, got vote shares of 0.25 per cent, 0.33 per cent and 0.90 per cent respectively.

The CPI-M had a vote share of only 0.09 per cent, down from 0.30 per cent in 2007, while CPI got 0.13 per cent votes, against 0.09 per cent last time.

The Janata Dal-United which contested on 219 assembly seats and Trinamool Congress which contested in 145 seats this time bagged a vote share of 0.36 per cent each, while Jan Kranti Party (Rashtrawadi) contesting 208 seats polled 1.24 per cent votes, even though they could not win a seat.

The Lok Dal contesting 91 seats got 0.11 per cent vote share, Amar Singh's Rashtriya Lokmanch which contested in 362 seats got a vote share of 0.63 per cent, while Ram Vilas Paswan's Lok Jan Shakti Party which contested in 212 seats got a vote share of 0.23 per cent without winning a seat in Uttar Pradesh.