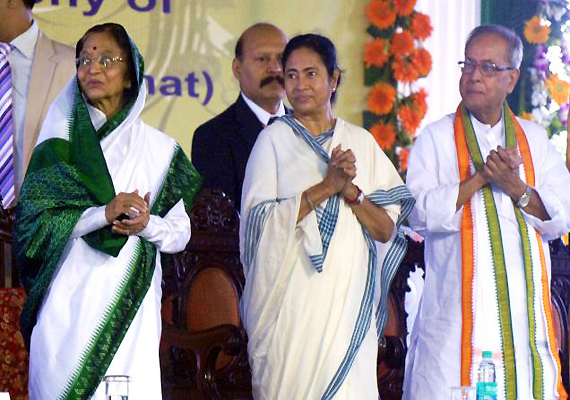 New Delhi, Mar 14: A Trinamool Congress move that could have embarrassed the government in Parliament over NCTC issue today came a cropper with the rejection of its amendment to the President's address seeking deletion of the reference to the controversial matter.

The amendment, moved by Trinamool Chief Whip in the Lok Sabha Kalyan Banerjee on Tuesday, was negatived on technical grounds.

Prime Minister Manmohan Singh will be replying to the three-day discussion in the Lok Sabha on the motion of thanks to the President tomorrow following which it will be put to vote.

Banerjee had put up an "objection" to a para in the President's address which refers to the National Counter Terrorism Centre (NCTC), an issue over which the Trinamool Congress has made common cause with the opposition and some non-Congress Chief Ministers.

Parliament sources said that the amendment was being dropped for technical reasons as it was wrongly worded.

While around 2,700 amendments to the President's Address to Parliament have been submitted in both Houses in a bid to corner the government on issues like NCTC, federalism and corruption, government sources said that even if any of them is passed, it could at best be an embarrassment for the ruling coalition.

Parliamentary Affairs Minister Pawan Kumar Bansal dismissed any threat to the government on any issue, saying that it has the required numbers.

"The government has got a mandate for five years. It has the total numbers that is required. There is no threat," Bansal said replying to a number of questions including whether the UPA coalition will face problems if BSP and SP fail to support it.

Parliament sources said that the TMC amendment has been rejected as generally the amendments to the President's address were for or against passing motion of thanks to the President and not "for deletion of this or that para".

Out of the over 2,700 amendment notices given by members in both Houses on the Presidential Address delivered by Pratibha Patil on March 12, 2,667 have been accepted.

Political parties including the BJP, TMC, NC, BJD, AIADMK, DMK, Left parties, TDP, JD(U), SAD and Shiv Sena are likely to move amendments to the Presidential Address on issues ranging from formation of NCTC without consulting the state governments, alleged assault on federalism by the Centre, atrocities against Sri Lankan Tamils, Lokpal Bill and the fight against corruption and other issues.

Normally, amendments to the President's address are tabled by Opposition parties and passage of such an amendment is considered a defeat for the government.

However, at the time of voting, a member can withdraw or not press the amendment.