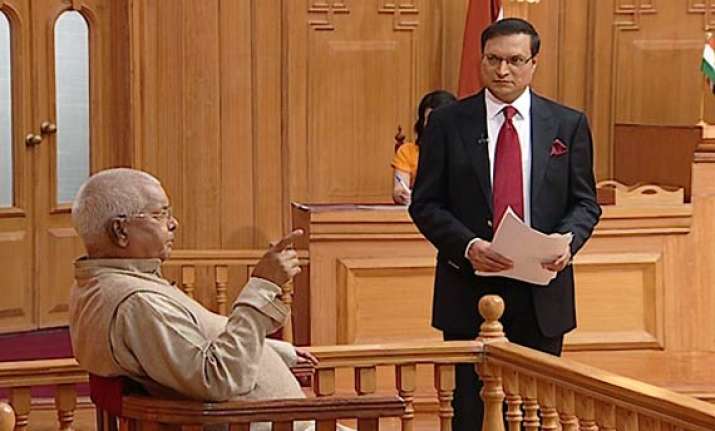 New Delhi, Dec 31: Lashing out at Anna Hazare and his team on the Lokpal issue, RJD supremo Lalu Prasad has said there cannot be a second Gandhi, nor a second Jayaprakash Narayan in India.
 
Replying to questions in Rajat Sharma's show Aap Ki Adalat on India TV, Lalu Prasad said he respected Anna Hazare, but nobody can claim to be a second Gandhi.
 
"The entire nation wants to know who elected the five members as representatives of civil society and when", said the RJD leader.
 
"People had become fed up of Annaji sitting on fast on each and every issue. Sitting on fast is a  right of any citizen but it should be used sparingly", he said.
 
On the Lokpal Bill, Lalu Prasad said, it has to be within the framework of the Constitution. "We cannot make Lokpal a superpower. Who is the Lokpal to act against the Prime Minister or the MPs? This is sheer anarchy", he said.
 
"I am not against Lokpal. I too want a strong Lokpal but it should be within the Constitutional structure.
 
"As far as the status of the present Lokpal Bill is concerned, it's neither pass nor fail, it's presently in limbo", he said.
 
Asked why his party member Rajniti Prasad tore up the Lokpal Bill in Rajya Sabha, Lalu Prasad defended him saying that it was not the Lokpal Bill.
 
"The bill had already been tabled. Where is the question of tearing it up?  Even if it had to be torn up at the introductory stage, I could have assigned this work to our MP Ram Kripal Yadav", he said.
 
Asked what paper did Rajniti Prasad actually tear, Lalu Prasad sought to defend him saying, V Narayanasamy was showing him some paper and another minister Ashwini Kumar intervened, during which some paper was torn up.
 
On the issue of corruption, Lalu Prasad said, Team Anna even went to the extent of questioning his being a member of the Parliamentary Standing Committee.
 
"They said, I ate up the fodder. But the fact is, CBI failed to prove. Even in the Rs 40 lakh disproportionate assets case, we ultimately won in the Supreme Court, and yet they say Lalu ate away all the fodder", said an agitated Lalu Prasad.
 
The RJD leader also lashed out at yoga guru Ramdev saying, that he was not a swami, but a physical trainer.
 
"He brought his disciples to Ramlila Maidan for yoga, and when the police came to disrupt his gathering, he jumped, and later wore a lady's dress to flee. This lowered his dignity. Had he courted arrest that time, even Team Anna would have respected him", he said.
 
Aap Ki Adalat show on India TV featuring Lalu Prasad will be telecast on Saturday(Dec 31) night at 10 pm and on Sunday  (Jan 1) at 10 am and 10 pm.