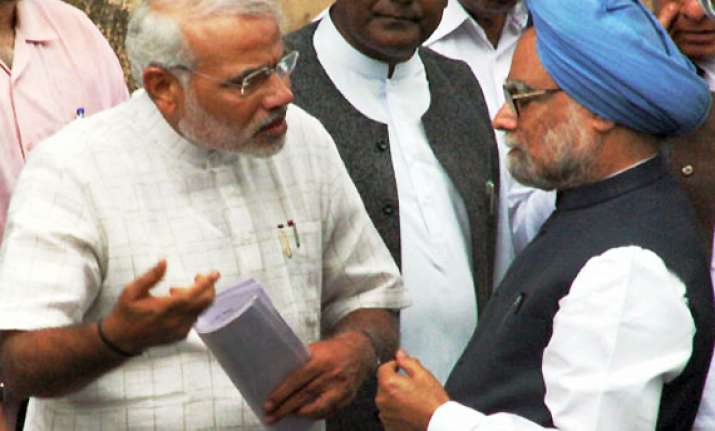 Mandvi (Guj), Feb 2: Gujarat Chief Minister Narendra Modi today said that Prime Minister Manmohan Singh had no right to continue in the office in view of the Supreme Court's ruling in the 2G spectrum case.

"When the Supreme Court has given a clear verdict, Manmohan Singh has no right to stay in the post even for a minute," Modi said, addressing a Sadbhavna fast meeting here.

"I dare the Prime Minister to give up his silence and resign," he said.

Modi also targeted Union Home Minister P Chidambaram, saying that "the court has established charges against Chidambaram. The Supreme Court has directed the lower court to hold a trial".

"After the apex court's directives, Congress has come out in the open to save him," Modi said.

"This raises a suspicion that entire Manmohan Singh-led government is making all these efforts not to save Chidambaram but all those people who are behind him and whose names have still not cropped up," Modi said.

"In the history of the country, we have not seen such a scam where the country's exchequer was looted to the tune of Rs 1.76 lakh crore."

The apex court today cancelled 122 telecom licenses granted during the tenure of former telecom minister A Raja, saying that first-come-first-served policy was wrong.

As to Chidambaram, the Court left it to the trial court to decide on the demand for investigation of his alleged role in the 2G scam.